Kale Salad with Strawberries and Almonds. I call this "The Happy Salad."  One of our close family friends introduced me to this kale salad with strawberries and almond salad and I have been in love ever since. I can seriously eat this salad every single day. Seriously! I actually have. LOL!  If only I could get my husband to eat salads for lunch every day!  Oh how packing lunch would be a breeze. I wonder will I ever see that day. I think not!
This salad is tasty and delightful. After enjoying this healthy meal, it leaves you satisfied and ready to take on the rest of your day.  Don't be surprised if one still yearns for more, due to its deliciousness.
Let me know what you think?  What are your favorite salads?  I would love to hear them.  Please comment below.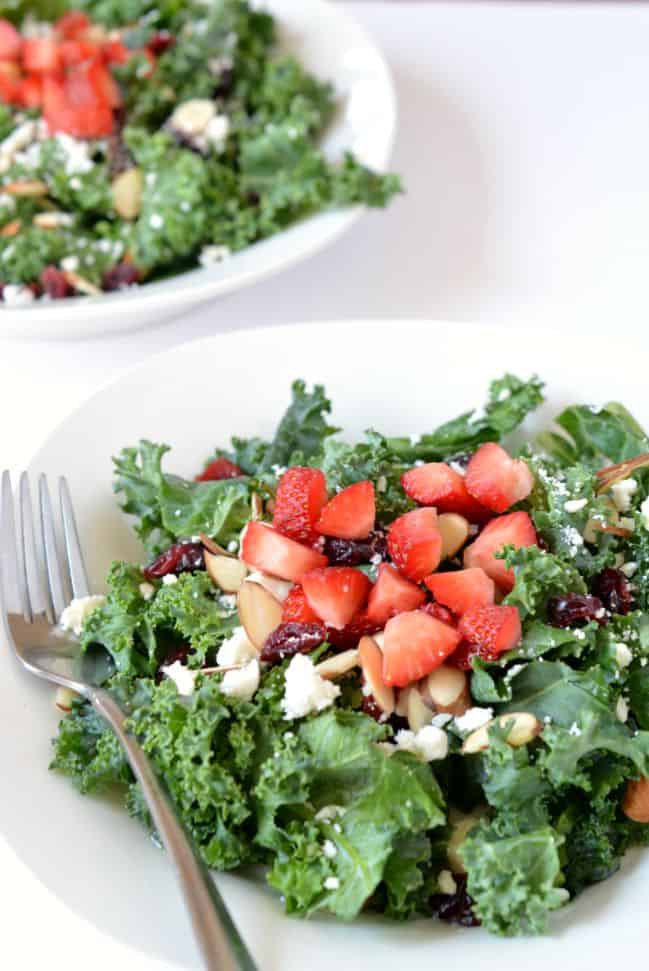 DON'T MISS OUT!
Join Our Community for Exclusive Updates and a FREE Recipe Card Delivered Straight To Your Inbox
Kale Salad with Strawberries and Pecans
This kale salad is simple and tasty to satisfy you lunch or dinner desires.
Ingredients
2 cups kale
1 tablespoon craisins
1 tablespoon feta cheese, crumbled
1 tablespoon sliced almonds
5 strawberries, diced
your favorite vinaigrette
Instructions
Put kale, craisins, feta cheese, almonds, and diced strawberries and dressing into a large bowl and toss gently to coat.
Serve immediately.
If you do decide to make this recipe, snap a pic and hashtag it #domesticdee. We love to see your creations on Instagram, Facebook, and Twitter.