Spice up your weeknight menu with this quick and easy shrimp and grits recipe.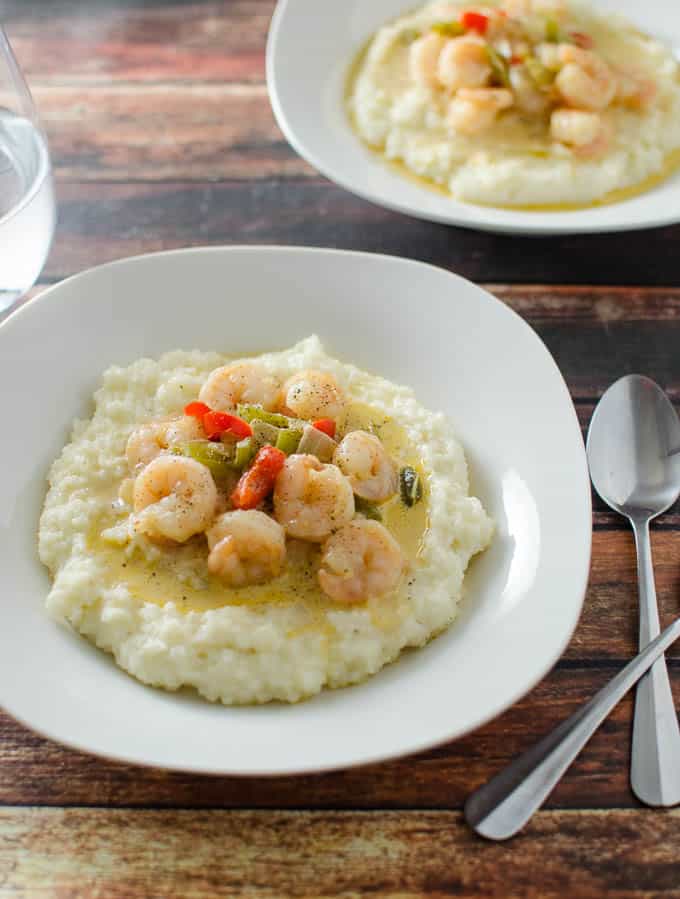 Hello beautiful people!  Hope you all had a wonderful week and are ready to start experimenting in the kitchen.  If that doesn't sound enticing,  at least try a simple dish and make it your own.
This week I did just that with my Sexy Shrimp and Grits!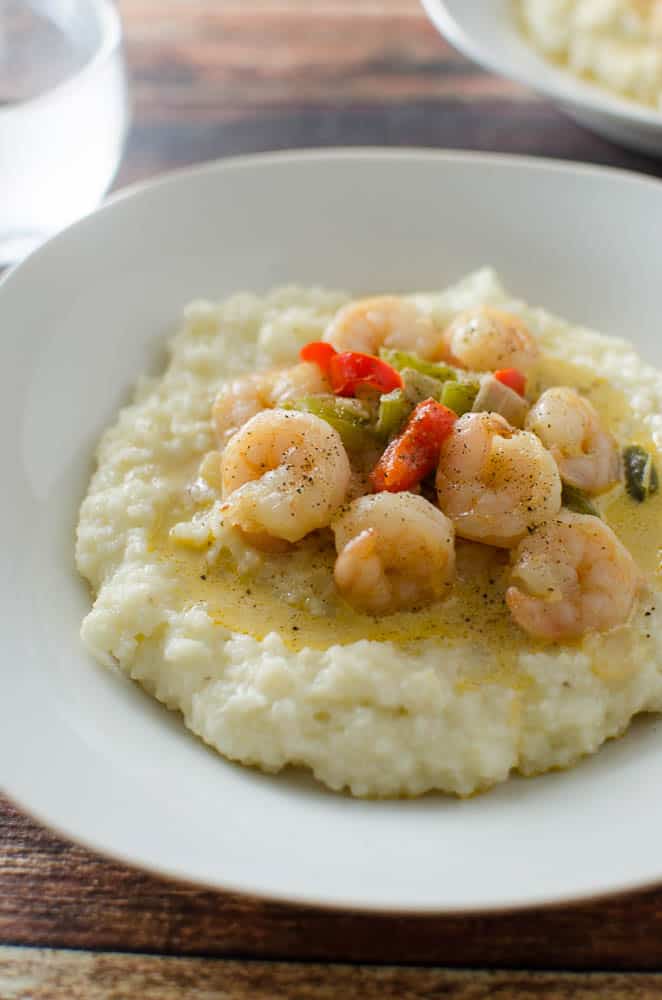 As you all know I only feel as though I accomplished something major if my picky eater (oldest son) and husband approve.  Guess what… they did just that,  YAY!  Notice I left my youngest out of the equation because he eats just about everything in site.  Literally!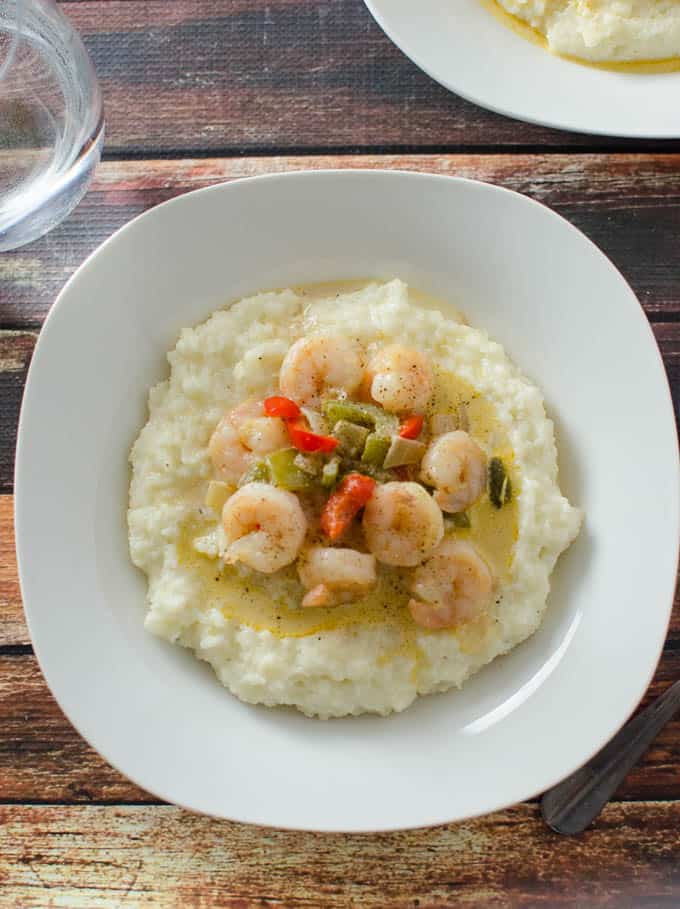 So this weekend if you don't feel like doing either of my suggestions, at least try making this wonder dish and have someone you can trust try out your results.  Oh yeah,  make sure you don't forget the Sexy!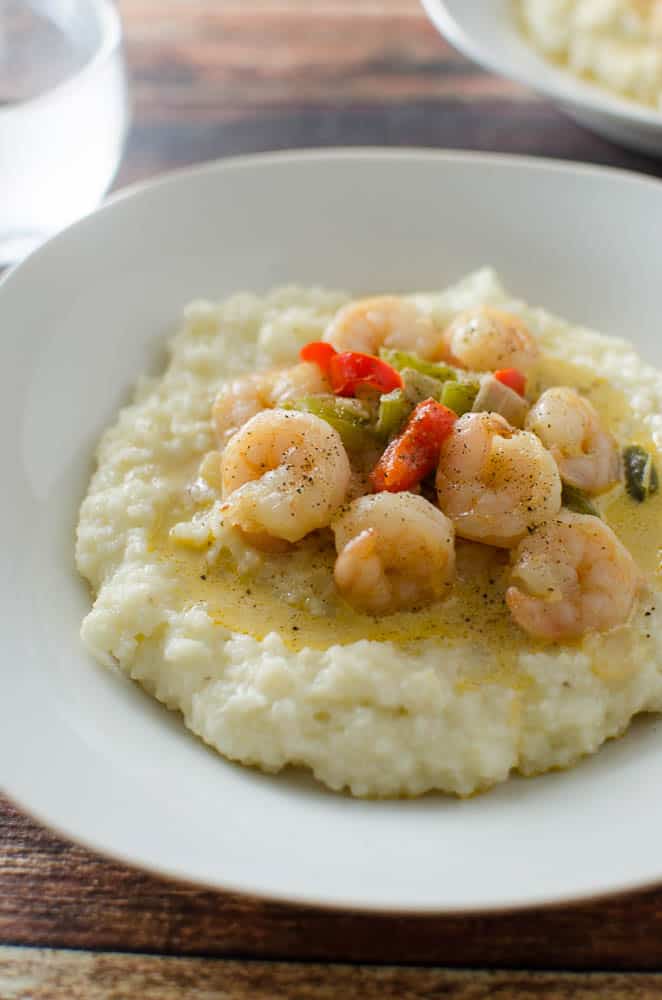 Enjoy!
Easy Shrimp and Grits
This easy shrimp and grits recipe is a flavorful weeknight meal.
Ingredients
Grits
2½ cup chicken broth
1 cup milk
1 cup quick- cooking grits
¼ teaspoon onion powder
¼ teaspoon garlic powder
pinch of kosher salt
Shrimp
2 tablespoons olive oil
1 tablespoon butter
½ cup of green pepper, diced
½ cup of red pepper, diced
½ of a medium onion, diced
1 celery rib, finely diced
2 garlic cloves, minced
2 cups of chicken broth
½ cup of heavy cream
2 teaspoon cajun seasoning
⅛ teaspoon pepper
1 pound medium shrimp, thawed and patted dry
Instructions
Grits
In a medium sized saucepan, bring broth and milk to a boil over medium heat. Slow whisk in grits. Reduce the heat to a low simmer stirring occasionally for about 5-7 minutes. Cook until desired thickness. Stir in seasonings.
Shrimp
In a large skillet, melt butter and olive oil together. Add peppers, onions, and celery and sauté about 3 minutes. Add garlic and sauté an additional 2 minutes. Add chicken broth, heavy cream and seasonings. Cook about 3-5 minutes until thickened. Add shrimp and cook about 3-5 minutes.
Serve over grits and Enjoy!