Do you want to make the best Turkey Stir Fry you've ever had in your life?  Well, you've come to the right place.  This top notch Turkey Stir Fry can be made by using simple pantry staples that most food lovers have in their kitchen.  Grab some peppers, onions, sweet and sour sauce ingredients, and you could end up feeling like you've just ordered out at your favorite Chinese restaurant.  This dish will definitely be a weeknight favorite.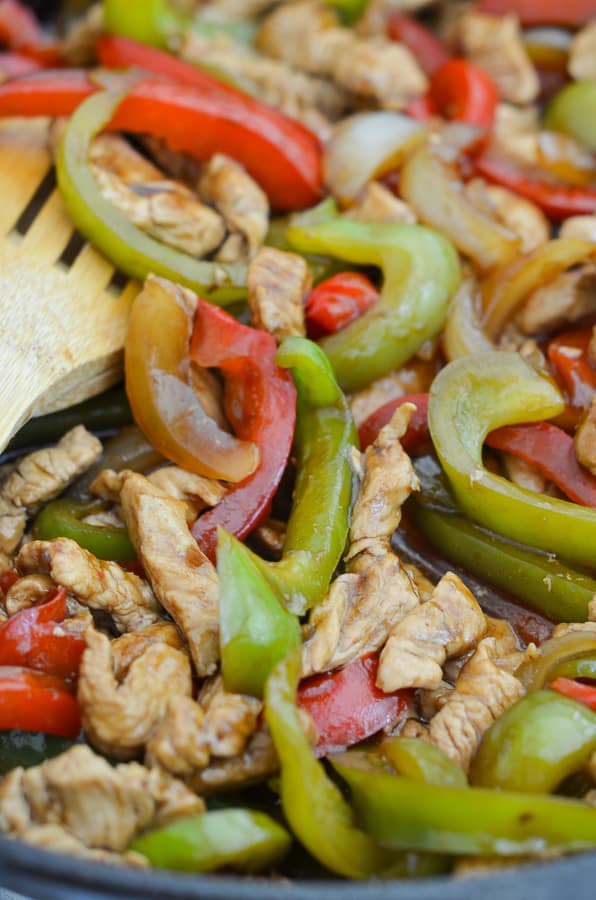 If you've had a long day at work and don't want to spend hours in the kitchen cooking a complicated dish, then you definitely should try this Turkey Stir Fry.  Stir fries are always an option for a delicious fulfilling family weeknight meal due to their simplicity and healthy benefits.
This Turkey Stir Fry includes Peppers and Onions, making this recipe colorful and full of flavor.  Like I stated before, it uses basic pantry staples which are most likely in your kitchen right now.  I know what you are thinking, no, you won't sacrifice flavor with the use of pantry staples.
The ingredients in combination with the sauce used in this Turkey Stir Fry, is so succulent and doesn't even require but a few ingredients.  You can't beat that!
How to cook 
Turkey Stir Fry with Peppers and Onion Recipe:
This stir fry can be made in one skillet. The meat you may have to cook in batches but after that, you will just be adding the different ingredients to create this amazing dish.  I love using my handy dandy cast iron skillet for stir fries. It just packs on so much flavor for any dish you want to cook up.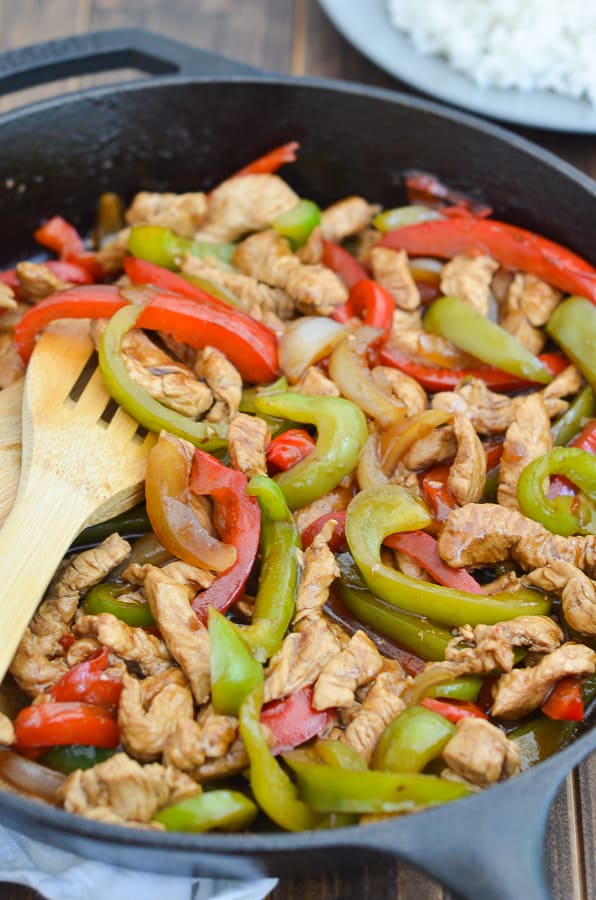 What to serve with
Turkey Stir Fry with Peppers and Onion Recipe:
I love to serve this stir-fry over a spoonful of rice.  I just make a huge batch in my pressure cooker.  As I am cooking the stir fry, I usually have the rice cooking so once the stir-fry is done, I will have hot rice ready to serve with the meal.
This is a great option to pack for lunches and to take to work.  It reheats nicely and will have your coworkers asking you what's for lunch?!?!

Tools/Ingredients I used to make the Turkey Stir Fry with Peppers and Onion Recipe:
Cast Iron Skillet: Great for high heat, quick cooking. This cast iron skillet is great to have in your kitchen
Knorr Granulated Bouillon: Terrific option instead of buying boxes of broth.
Pressure Cooker: One of the best inventions to cook rice in while you make your stir fry.
Remember to
subscribe
to Domestic Dee Digest for the latest notifications delivered to your inbox!
If you try a recipe, hashtag
#domesticdee
on
INSTAGRAM.
Follow Domestic Dee on
FACEBOOK
|
INSTAGRAM
|
PINTEREST
|
TWITTER
for all of the latest content, recipes, and updates.
Turkey Stir Fry with Peppers and Onions
The best Turkey Stir Fry with Peppers and Onions in an amazing sweet and sour sauce. This stir fry is full of turkey, peppers and onions. A dinner option made with pantry staples. This dish will definitely be a weeknight favorite.
Ingredients  
Turkey
1

pound

turkey cutlets

sliced

1

tablespoons

dry sherry

1

Tablespoon

soy sauce
Vegetables
1

medium onion

sliced

1

garlic

minced

1

green bell pepper

sliced

1

red pepper

sliced
Sweet & Sour Sauce
¼

cup

water

2

tablespoons

of balsamic vinegar

2

tablespoons

soy sauce

1

tablespoon

dark brown sugar

1/2

teaspoon

Chicken Granulated Bouillon

2

teaspoons

cornstarch
Instructions 
Heat 12 inch cast iron skillet over low heat.

Toss turkey cutlets in soy sauce and sherry in a medium bowl.

Chop vegetables and place in a large bowl.

Mince garlic;set aside.

Mix ingredients for sauce;set aside.

Drizzle 1 tablespoon of olive oil to coat the skillet. Add the turkey cutlets and stir fry until cooked through, about 3 minutes. Transfer to a plate.

Drizzle 2 tablespoons of oil into the skillet. Add onion Stir fry for a minute.

Add garlic. Add peppers. Stir Fry about 3 minutes until soften but crisp. Add turkey back into skillet.

Stir in sauce until all ingredients are coated Stir until sauce thickens. Serve over rice.