Can you believe it is fall already? Are you excited? Ready to put out fall decor? Decorating for seasons can add up quickly. 
For fall decorations, you have all the cute pumpkins, wreaths, and faux greenery. 
Don't worry about the price anymore because I'm sharing three inexpensive fall decorating ideas you can do to bring the fall season into your home today!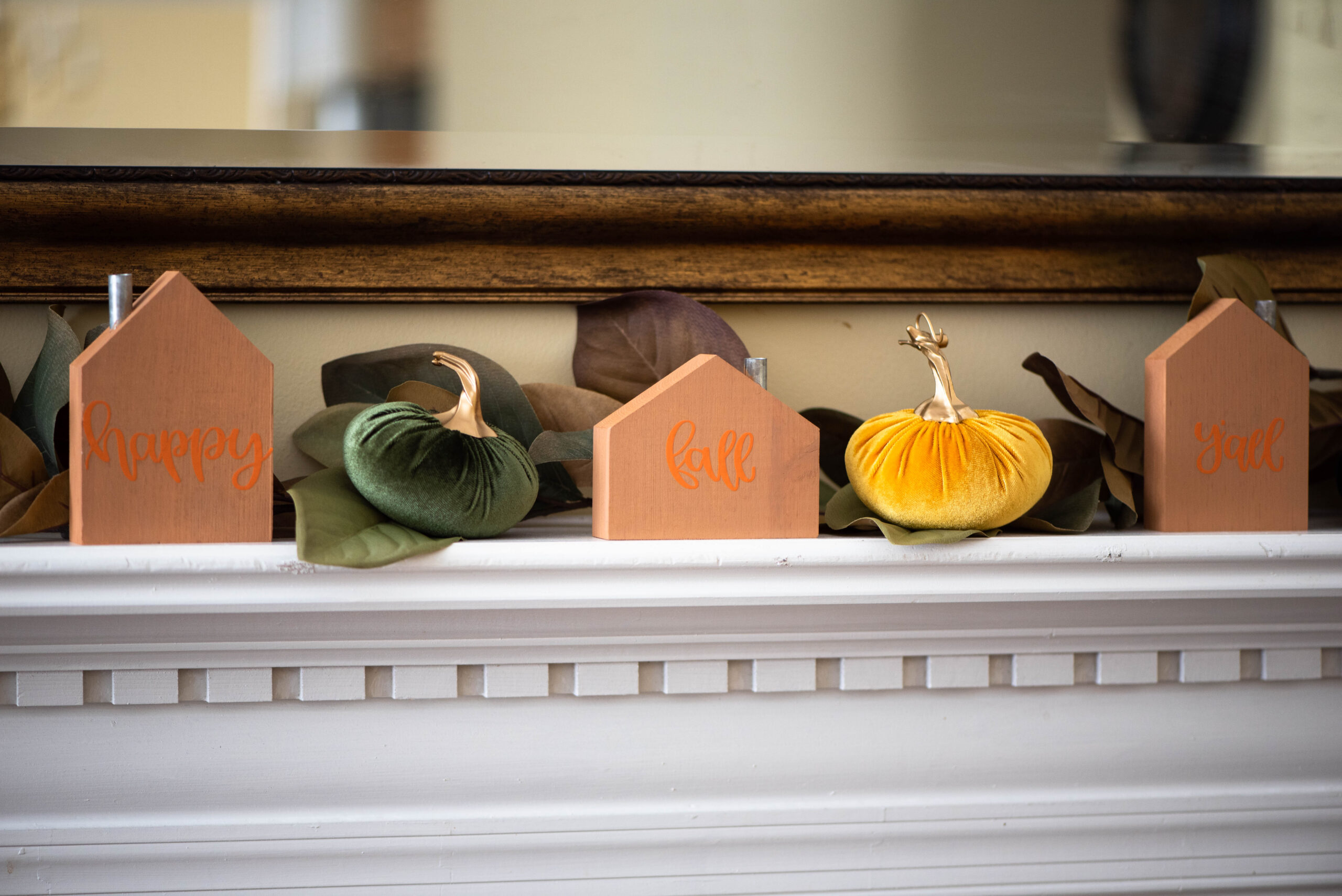 This post contains affiliate links. See the disclaimer here.
3 Inexpensive Fall Decorating Ideas to Spice up Your Home
I love decorating my mantel for the holidays. It doesn't take much to decorate your mantel with a few seasonal pieces to add a touch of fall to your home.
I typically switch out my mantel for the different seasons or holidays. This can be done for any seasonal holiday, Christmas, Valentine's Day, Easter, Fall, or Springs.
It is such an easy way to add a different flare to your home decorations regularly. 
I'm sharing with you how I added fall decorations to my mantel, dinner table, and TV stand.
Here is how you can inexpensively decorate your home:
Decorating Your Mantel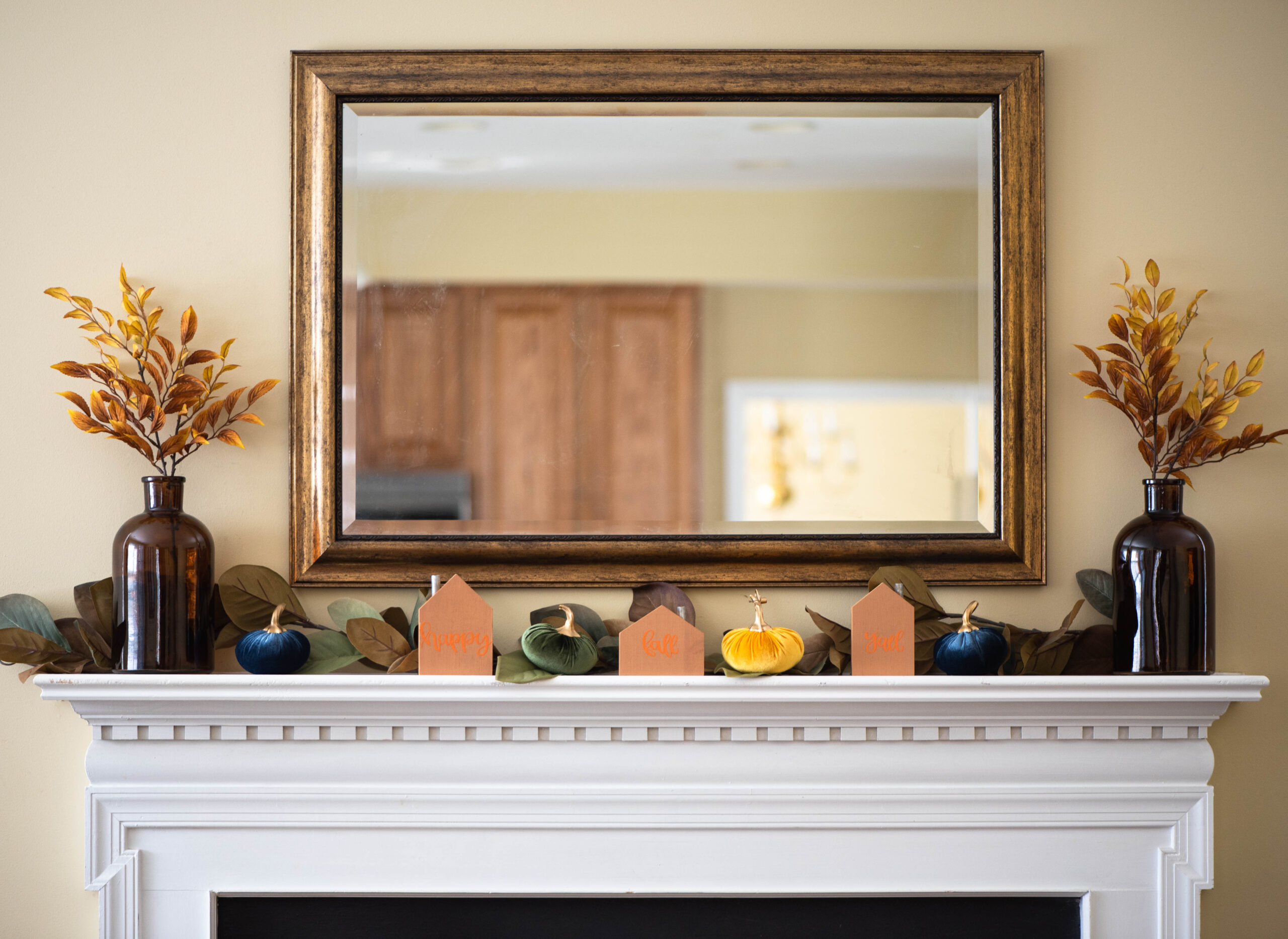 For my mantel, I added a garland with leaves. I like this garland, especially since it fits perfectly on the mantel.  
Next, I added an Amber Vase on each end of the mantel. I placed colorful branches inside of both vases to add a little bit of color and pop.
If you follow me on Instagram you might have caught me making this on Instagram Live. If you missed it, you can check out Instagram Live Cricut Joy Tutorial to see how the sign was made. 
Lastly, I placed cute mini velvet pumpkins to add to the final touch of the mantel. 
Most of these home decor items can be used year after year, and all you have to do is change up the colorful branches or the mini pumpkins to give it a completely different look. 
Sometimes I use a wreath over the mirror mantel as well, but with the garland, it was too much going on therefore I left having a wreath out.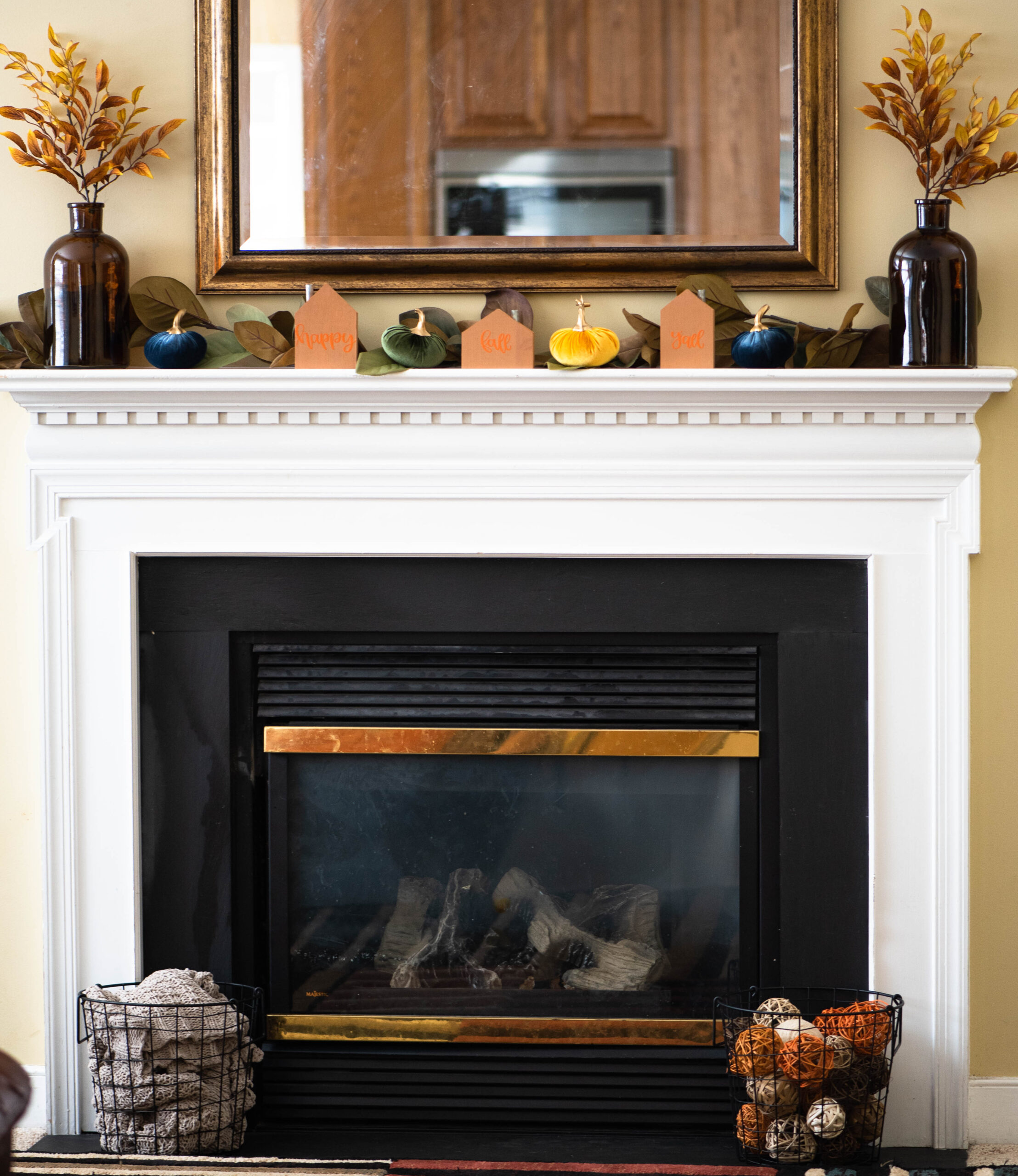 A Fall Table Centerpiece
This centerpiece came together so nicely, and it was so simple. You don't need many fall decorations for your table to make it look nice. 
If it is not needed at your table you can put another nice seasonal decoration. Having only a few items keeps the tray looking nice and not cluttered.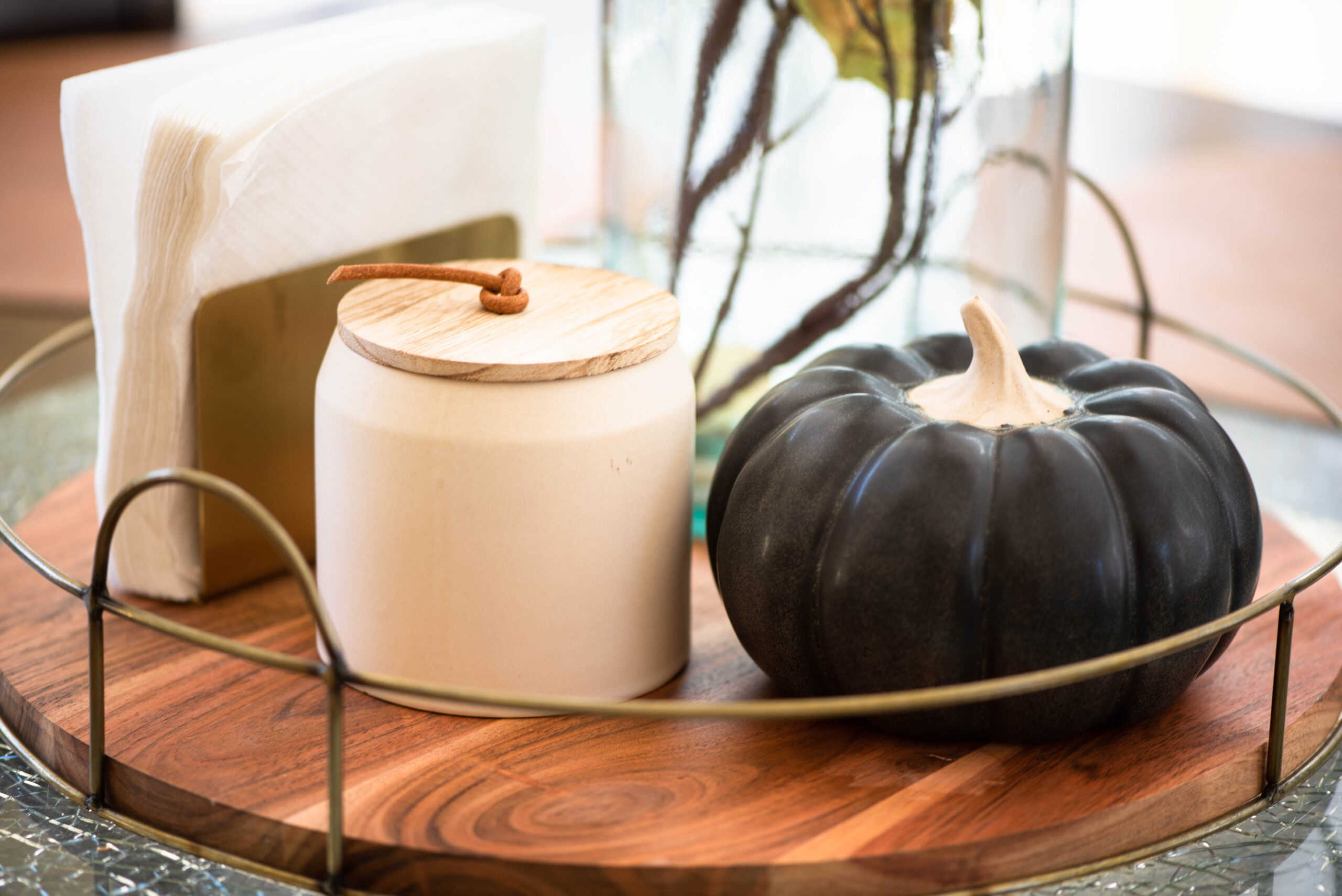 TV Stand Decor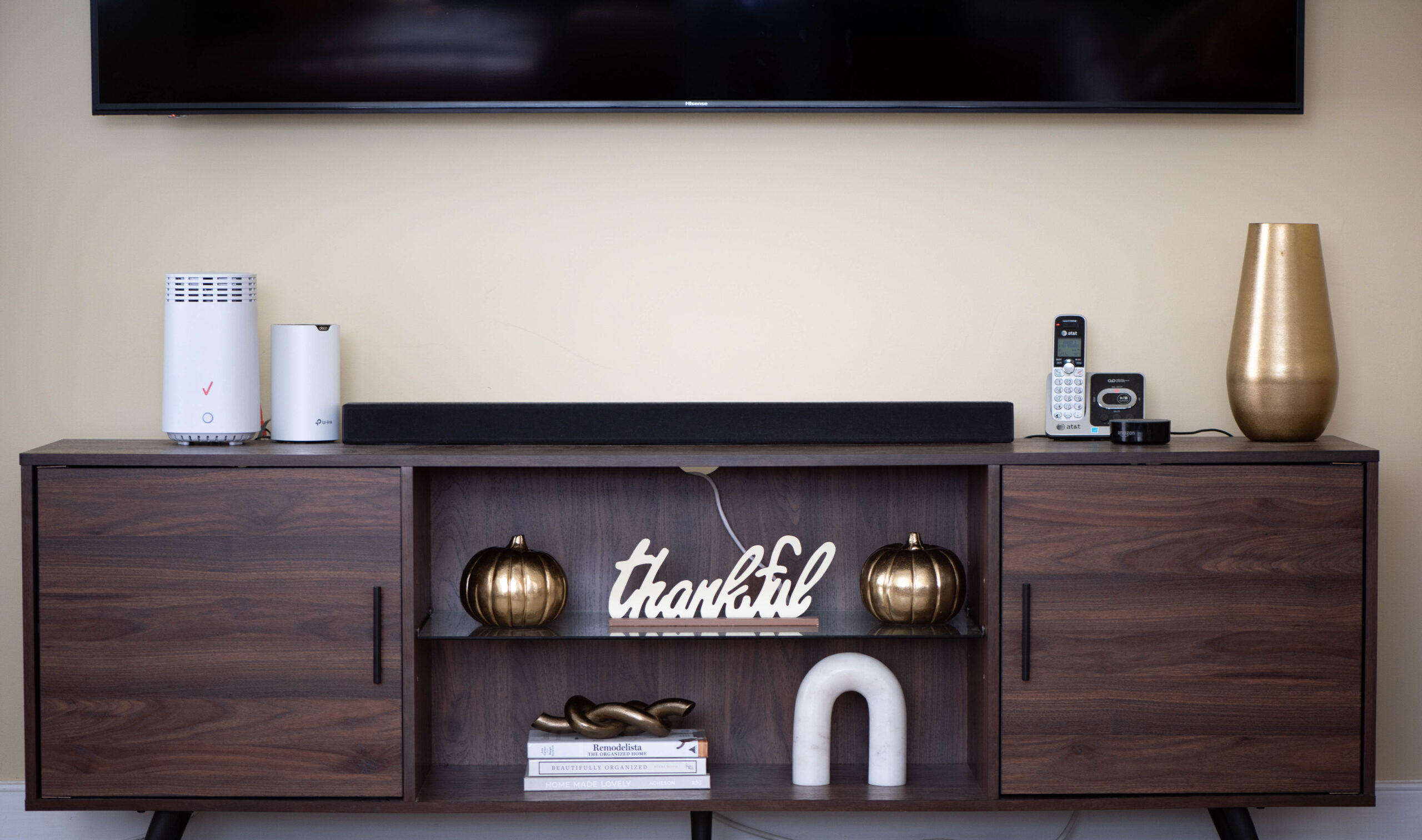 The shelves on the TV stand are always a great way to decorate. I like to add a few fall decor items on the shelves to give it a pop of fall. 
I don't like to add too much. I try to stay with about two to three items per shelf and alternate the number of items on each shelf like two then three then two etc. 
The best way is to play around and step far back and see how it looks to you.
For this look, I used books from my home that I already had. I found this cool piece at Target that I couldn't pass up. Lastly, I added some pumpkins (purchased last year from Target) to add the fall look to the shelves.  
Your TV shelves don't require much that is what makes it so inexpensive to decorate and I love it!
As you can see, you don't have to break the budget to make your house look nice for fall. I hope you can incorporate one of these budget-friendly fall decorating ideas in your home. 
 What are a few ways you decorate for fall that are inexpensive and cheap ways to decorate your home for different seasons?
Remember to subscribe to Domestic Dee Digest for the latest notifications delivered to your inbox!
If you make one of these recipes, hashtag #domesticdee on INSTAGRAM.
Be sure to follow me on social media, so you never miss a post!
Follow Domestic Dee on FACEBOOK | INSTAGRAM | PINTEREST | TWITTER for all of the latest content, recipes, and updates.