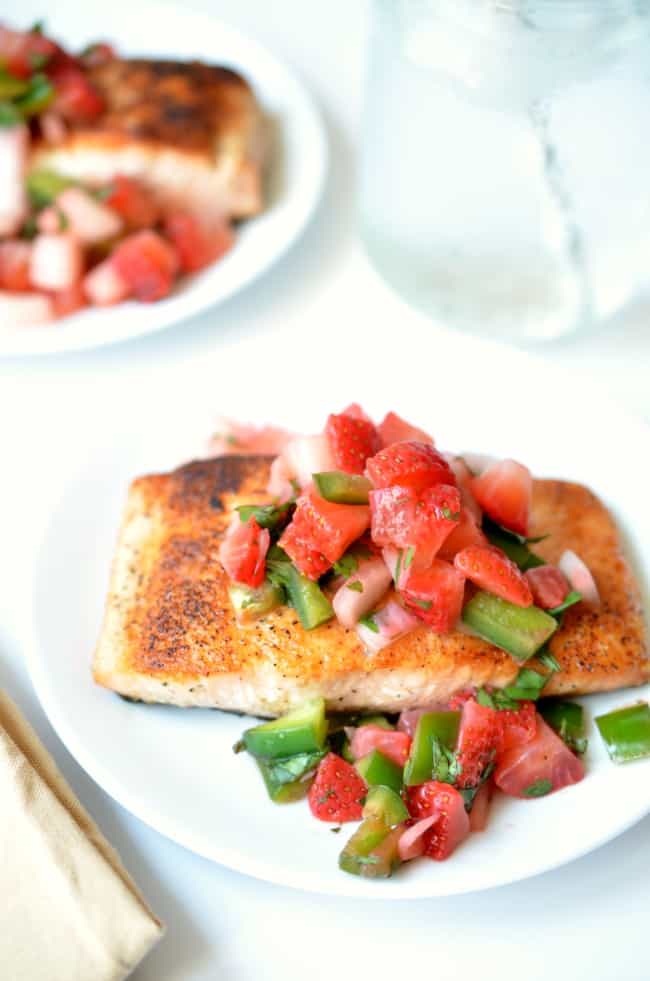 Nothing like a nice piece of perfectly golden pan seared salmon on a hot summer day. Salmon is a fish that I enjoy when I am trying to eat more on the healthy side. It provides so many nutrients and it is just so light and refreshing. You can't have just one piece and leave satisfied. Now, salmon with strawberry salsa just adds a little summer time flare of a sweet and savory sensation.  If you want the best of worlds, then you have to try this dish to satisfy your cravings.
Pan Seared Salmon with Strawberry Salsa
Ingredients
Recipe for Strawberry Salsa:
Half a pint of strawberries, hulled and diced
1 jalapeno, diced and seeds removed
½ yellow onion, diced
2 T cilantro, minced
1 lime, juiced
Salt, to taste
Recipe for Salmon:
4 salmon fillets
Salt
Pepper
Garlic powder
Onion Powder
Instructions
Preheat a heavy duty skillet with a tablespoon of vegetable oil.
In a medium sized bowl mix strawberries, jalapeno, onion and cilantro. Drizzle with lime juice. Season with salt to taste.
Season both sizes of salmon with listed seasonings. Place salmon skin side up in skillet. Cook for about 4 minutes until color has changed halfway through. Flip salmon over on skin side and cook an additional 4 minutes.
Put the salmon on a plate and stop with salsa and enjoy!