This delicious chicken pot pie soup is everything you love in the pie, served now in a creamy soup form.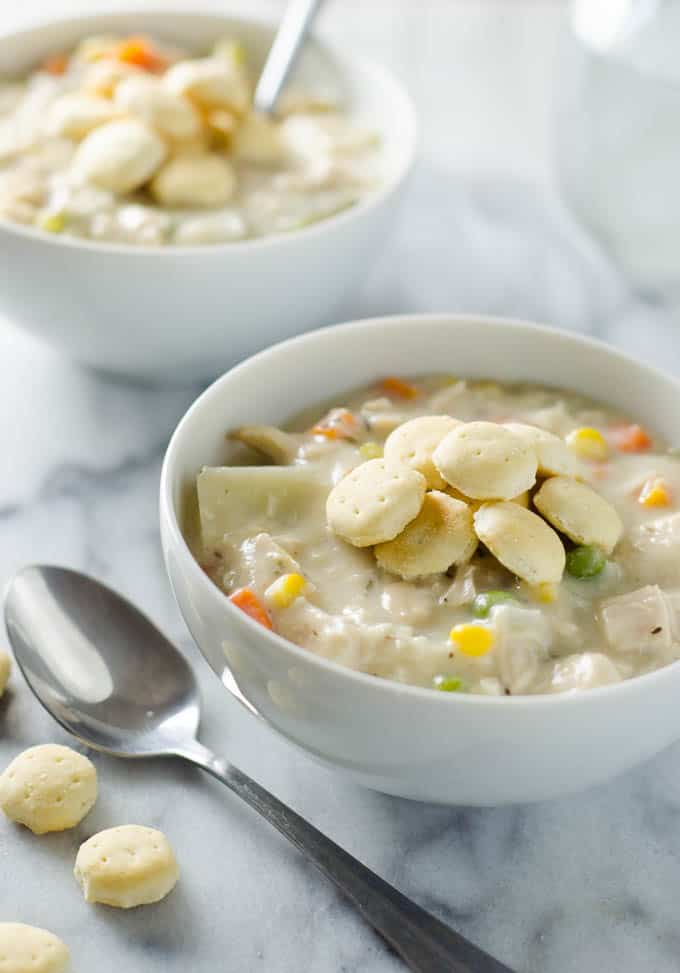 Today is a very exciting day!  I am bringing you a wonderful comfort food recipe revamped into a hearty soup and my very first group giveaway!  Can you tell I am excited?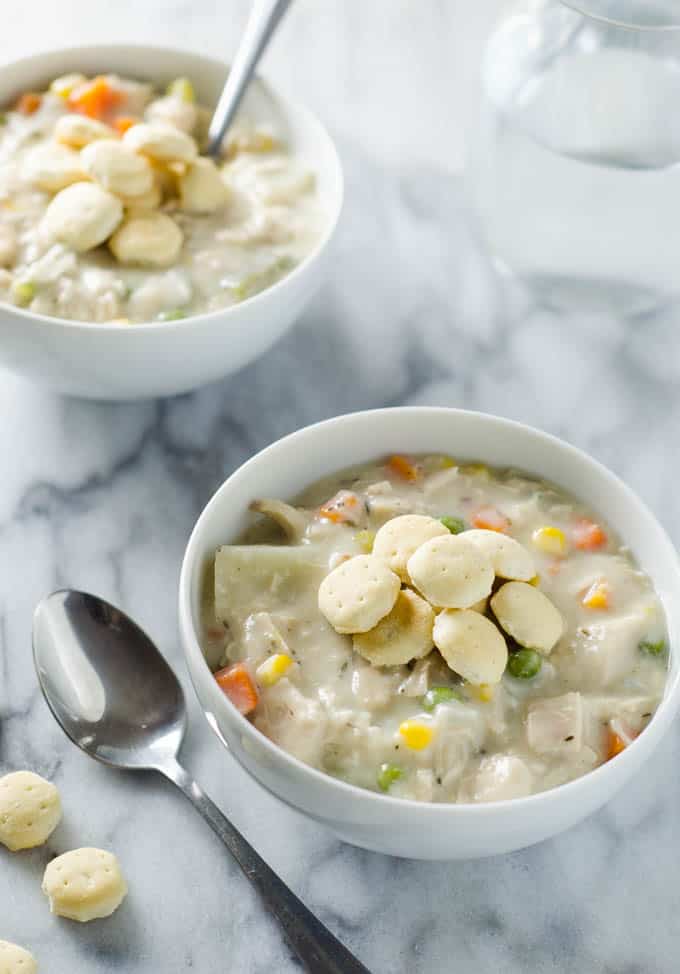 My husband loves Chicken Pot Pie and I love soup. So I thought to myself. Let me make a Chicken Pot Pie Soup. This recipe is so easy to make and you will probably have majority of the ingredients already at home. The soup is full of vegetables and chicken, it make for a hearty filling to get your tummy full.

Chicken Pot Pie Soup
This delicious chicken pot pie soup is everything you love in the pie, served now in a creamy soup form.
Ingredients
2 tablespoons olive oil
1 tablespoon butter
½ medium onion, diced
½ cup celery, diced (about 2 stalks)
¼ cup flour
2 (15 oz) cans of chicken broth
1 cup milk
1 cup diced potato
1 cup mixed veggies
2 cups leftover chicken, diced
½ teaspoon kosher salt
¼ teaspoon pepper
¼ teaspoon parsley
¼ teaspoon thyme
½ teaspoon garlic powder
Topping oyster crackers(optional)
Instructions
Heat butter and olive oil in a large stockpot over medium-high heat until melted and combined.
Add onion, carrots, and celery. Saute for 5 minutes, stirring frequently, until the onion is soft and translucent.
Stir in the flour until it is completely combined, and saute for an additional 1 minute, stirring occasionally.
Gradually add in the chicken broth then the milk, stirring frequently. (VERY IMPORTANT)
Stir in the potatoes, chicken, mixed vegetables, and seasonings until thoroughly combined.
Bring the soup to a low simmer stirring occasionally. Cover and simmer for about 15 minutes until the potatoes are tender.
Enjoy!
Now onto my very first giveaway!!!! YAYYYYY!!!!! I have joined forces with some wonderful bloggers to bring this AWESOME giveaway for a $700 Amazon gift card!!!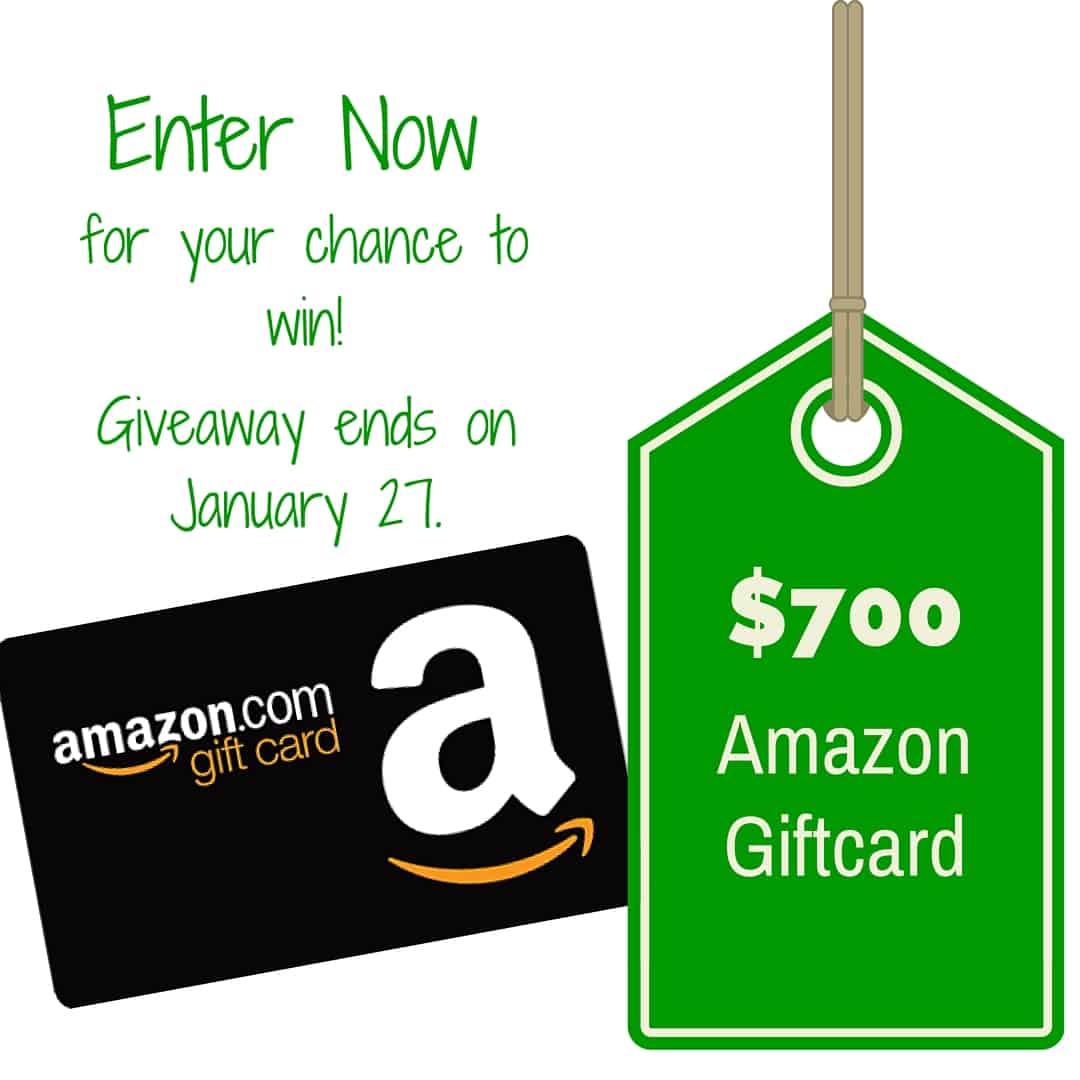 There are several entry options, which means tons of opportunities for you to win. If you are already following me on any of my social media channels, those are 'free' entries for you right there. Just make sure you enter it in the widget below.  If not I encourage you to follow me on my social media channels to increase your chances to win.
This giveaway is open to residents of US, Canada and UK, so hurry up to enter. The giveaway only last 2 weeks starting today until  midnight on January 27, so be sure to enter below. There are a few entries that can be done more than once so be sure to stop back!
Again, this is just a small way to let you know, I appreciate you for following me on my blog journey. Thanks for being a reader!
Lastly, I want to send a big thank you to the other bloggers that help make this possible. When you get a moment check out their sites to see what they have going on in their kitchen: