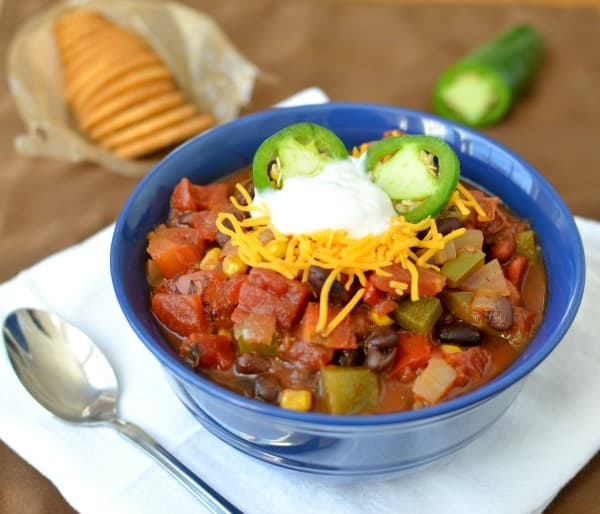 For the last several weeks it has been on and off snowing. I mean it has been sooo cold and windy. If there is one thing about me, it is that I do not enjoy cold weather one bit! Bring me the Florida sun to definitely put a smile on my face.   So, when the weather man said to prepare for another snow storm I immediately knew I needed to make a hearty comfort soup to keep warm.
I decided to make a vegetable chili. This dish is filled with flavor and will definitely fill you up. Feel free to add any vegetables you like.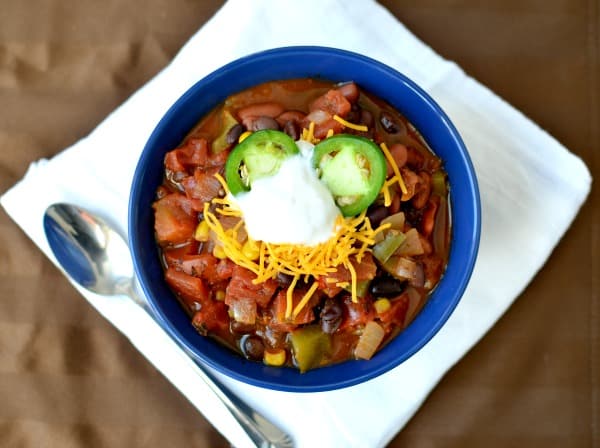 Chipotle Vegetarian Chili
Ingredients
2 T Extra Virgin Olive Oil
1 onion, diced
3 garlic cloves, minced
1 green pepper, diced
1 red pepper, diced
1 jalapeño, diced
½ tsp salt
1 T chili powder
1 T ground chipotle powder
1 T cumin
1 T oregano flakes
2 tsp sugar
3 T tomato paste
2 14.5 oz. cans of diced fire roasted tomatoes
1 8.75 oz. can of corn
2 15 oz. cans of black beans, drained
1 15 oz. can of kidney beans, drained
3 cups of water
Instructions
Saute onions in olive oil on medium heat for about 3 minutes.
Add garlic and peppers and saute about 5 minutes until tender.
Add seasonings and mix well.
Next, add paste, tomatoes, corn, beans and water.
Simmer for 30 minutes on low.
Notes
If you are not a fan of spicy foods omit the tablespoon of ground chipotle power and add another tablespoon of chili power instead.
What soups do you make during the winter months?  Please comment below.