Working Mom Schedule – How to Make It All Happen?
As a working mom, there are so many things to do in such little time. How do you make it all work?
If you are struggling with figuring out how to manage commutes, workouts, quality time with your spouse and kids, picking up and dropping your kids off at daycare and/or school, and working your normal hours, you are not alone. I
t can be tough to figure out a working mom schedule.
However, it is possible to manage your to-do list, set realistic expectations, and have a structure for the whole family.

Benefits of Having a Schedule
Being a mom, working, running errands, spending time with your spouse, and doing everything else you need to do may seem overwhelming from time to time.
However, if you develop a working mom daily schedule, you can reap many benefits. Some of these benefits include the following:
Having structure in your life and giving your kids structure in their life

Forced to schedule everything that needs to get done

Consistency in a sound routine

Less stress amongst family members

Progress being made on set goals
If you want to reap these benefits, creating a working mom schedule as soon as possible can help you a great deal.
Tips to Make Things Easier
Does the thought of even creating a working mom daily schedule seem overwhelming? Don't worry. If you follow certain tips, you can make things easier for yourself. The tips that can help you out include the following:
Cooking multiple meals on the weekends, so they are ready to go for each weekday

Vacuum as needed since it really doesn't take that long

Save time on grocery shopping by using Instacart and Shipt

Put routine tasks and routines in Google calendar so you can get reminders of what you need to do
If you follow these tips, you can make your schedule a bit easier and less stressful.
Creating a Schedule
So, how do you create a working mom schedule? You will want to start by making a list of tasks that you need to do monthly, biweekly, weekly, an daily. Some examples might include the following:
Monthly – Housekeeping tasks such as washing windows, washing walls, and dusting fans

Biweekly – Manicure, pedicure, hair appointment, and do light organizing

Weekly – Wash bedding, grocery shop, meal plan, plan out your next week, get kids outfits for the week,

 

laundry (this could be done more regularly if you wanted), and self-care

Daily – Clean as needed (wiping counters and vacuuming), cook, and workout (3 to 5 times a week)
Add anything that you feel is needed into one of these groups. From there, you can create your daily working mom schedule.
Moms have a lot on their plate. However, this doesn't mean you can't live a happy and stress-free lifestyle.
One of the things that will help you out a ton is creating a working mom daily schedule. Start making your schedule today.
You can always adjust it as needed if things change.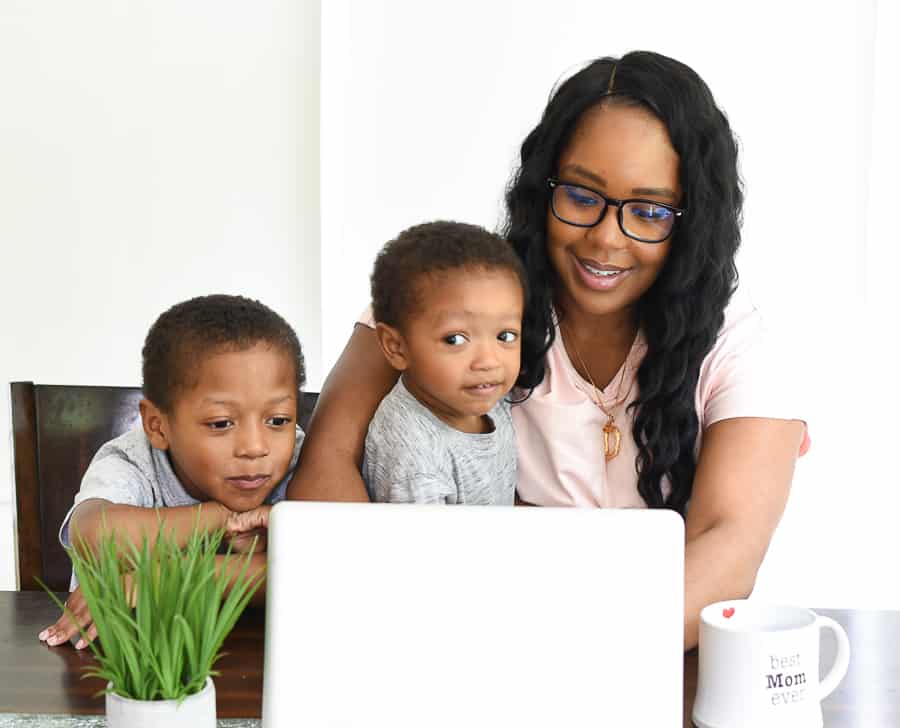 Remember to subscribe to Domestic Dee Digest for the latest notifications delivered to your inbox!
If you make one of these recipes, hashtag #domesticdee on INSTAGRAM.
Be sure to follow me on social media, so you never miss a post!
Follow Domestic Dee on FACEBOOK | INSTAGRAM | PINTEREST | TWITTER for all of the latest content, recipes, and updates.
DON'T MISS OUT!
Join Our Community for Exclusive Updates and a FREE Recipe Card Delivered Straight To Your Inbox