Collard greens are nutritious and hearty. These perfectly seasoned collard greens with smoked turkey recipe is cooked in turkey broth with shredded turkey meat mixed in.
Cooking the collard greens in a smoked turkey broth deepens and elevates the flavors.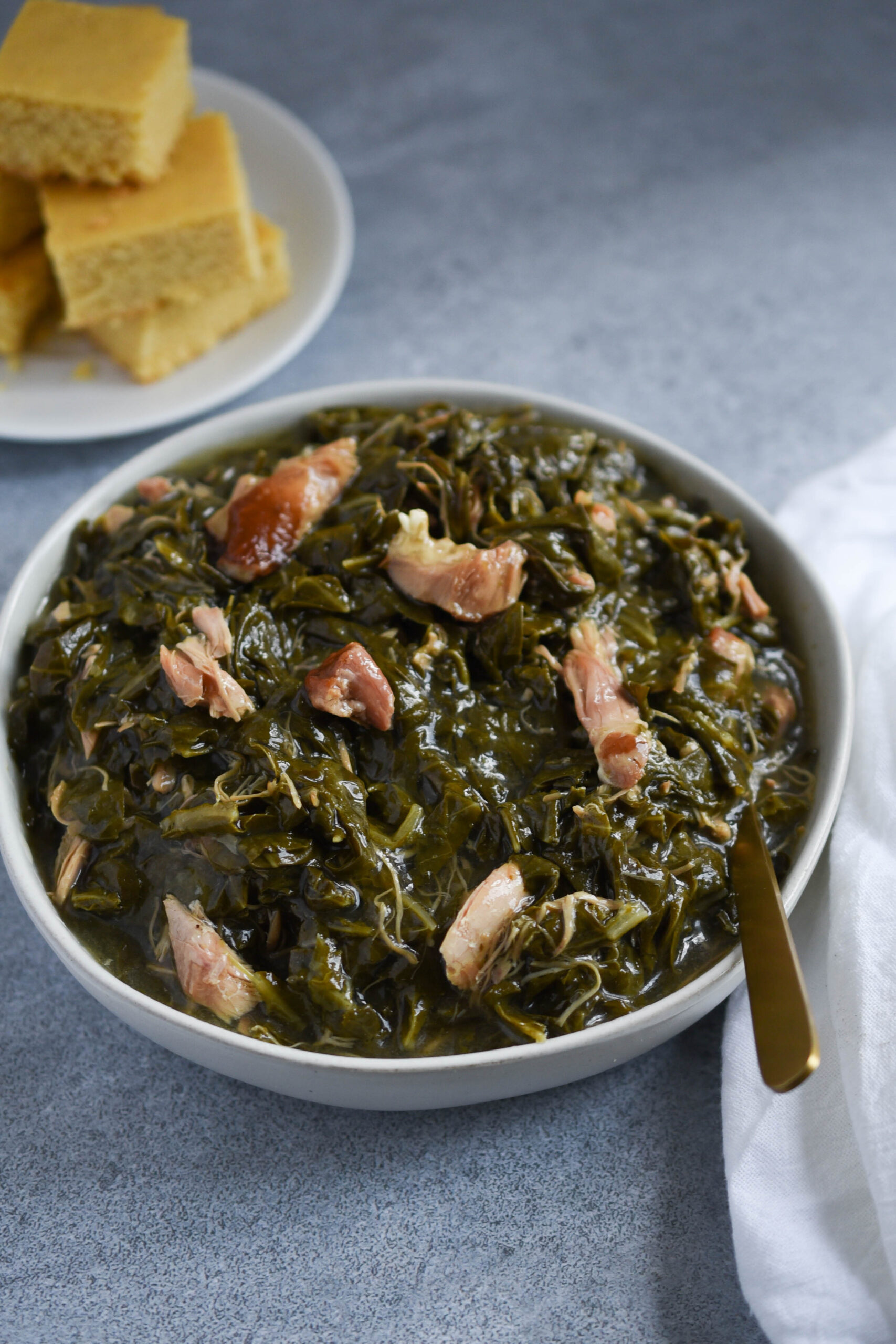 Kickin' Collard Greens with Smoked Turkey – Tender and Flavorful Every Time
These greens and the turkey meat are tender, moist, and delicious. The dish comes together in one pot and you probably already have most of the ingredients in your pantry.
This is a perfect dish to accompany a Thanksgiving feast!
Collard Greens with Turkey Ingredients
You only need a handful of ingredients to make collard greens with smoked turkey.
Here's what you should buy:
– Collards
– Smoked Turkey Wings
– Seasoning Salt
– Black Pepper
– Apple Cider Vinegar
– Sugar
– Chicken bouillon
– Butter
The best part is you probably have most of these ingredients in your pantry already.
How to Prepare Your Collard Greens
The majority of the work required to make this recipe is in the preparation of the collard greens before cooking. Preparing collard greens is really simple.
Here's what you need to do:
-Rinse your collard greens really well
-Dry your collard greens
-Trim and de-stem the greens
-Chop up the collard greens into 1-inch pieces
That's it! It's only a few easy steps to prepare collard greens for this recipe.
How to Make Kickin' Collard Greens with Turkey
This recipe is incredibly easy to make. There are only a few simple steps that you need to follow. Here's how to cook kickin' collard greens with turkey:
Make a smoked turkey broth by adding your smoked turkey wings to a pot of water
Remove turkey wings when they are tender
Add your seasonings
Add the greens to the broth in three batches
Remove turkey meat from the bones and add them back into the pot
About one and a half hours later, the collard greens and turkey will be ready for you to enjoy.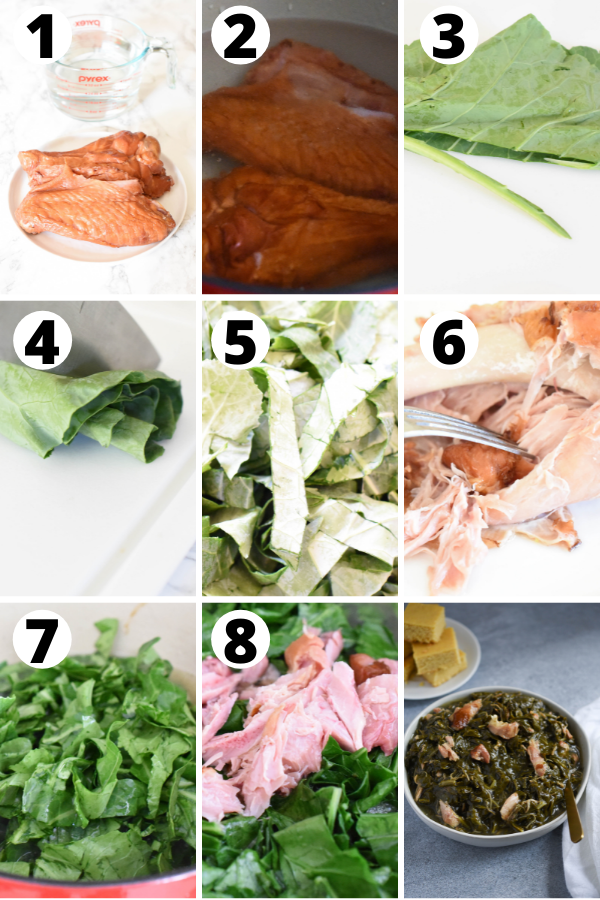 How to Know If Turkey Wings are Cooked
When you are making your turkey broth, here's how you'll know the turkey wings are broth are ready:
The turkey wing meat will be tender and fall off the bone
If you have a meat thermometer handy, the internal temperature of the turkey wings should reach 165°F as per the USDA's recommendations
Once the turkey wings are cooked, you can remove the wings and add your collard greens to the broth.
How Long It Takes to Cook Collard Greens
There are a few key indicators to look out for when checking if the collard greens are cooked:
The collard greens will take about 1.5 hours to cook in the turkey wing broth
The collard greens will turn dark green when they are cooked
They will also be fork tender
You can't really overcook collard greens, but undercooked collard greens are tough and gritty
Once your dish is ready, enjoy your kickin' collard greens with turkey as a delicious Thanksgiving side.
How to Keep Southern Collard Greens Fresh
If you've found that your collard greens wilt quickly, here are some tricks to keep them fresh for when you're ready to cook:
Do not wash them before you refrigerate them as this increases the risk of wilting
Wrap them in paper towels to capture any moisture
Place them in a plastic bag and keep it open to allow moisture to evaporate
Use within 5 to 7 days
Wait to wash your collard greens right before you cook with them
It's that simple to keep them fresh. If you follow these steps, you'll never have wilted collard greens again!
How to Freeze Collard Greens
If you bought a lot of collard greens and you won't use them within 5 to 7 days, you can freeze them.
Here's how:
Wash your collard greens
Blanche the collard greens in boiling water for less than 1 minute
Drop them into a bowl of ice and water
Remove from water and pat dry
Squeeze any excess water to avoid crystallization in the freezer
Freeze your desired portions into airtight plastic bags
Use within 1 year!
Pro tip: Label your plastic bags with an expiration date so you know how much time you've got left to cook with the collard greens.

Serving Collard Greens with Turkey
Collard Greens with Turkey is a perfect side dish to incorporate into your Thanksgiving feast.
Serve these Soul Food Greens with:
-Mashed Potatoes
-Sweet Potato Casserole
-Mac and Cheese
-Green Bean Casserole
-Fried Chicken
This Collard greens with turkey are so delicious, hearty, and nutritious. You can also enjoy them any time of the year – not just Thanksgiving. Add a starch and maybe a little extra protein, and you're good to go!
How to Store Collard Greens with Turkey
If you're making your kickin' collard greens with turkey ahead of time, or you end up with leftovers, here's how you can store it:
Let the collard greens cool to room temperature
Do not let them sit out for more than 2 hours after you have cooked them
Pack the collard greens with turkey up into an airtight container
Keep the dish in the fridge for up to 3 days
A lot of people say collard greens actually taste better the next day because the flavors have more time to develop. This dish is a perfect candidate for a make-ahead Thanksgiving dish!
Reheating collard greens with turkey is simple. Here are a couple of options:
Reheat in the microwave for a few minutes in a heatproof dish
Reheat on the stove top with a splash of water or broth
One quick note on reheating to keep in mind is that you should not reheat more than you plan to eat, as it is not safe to reheat a dish more than once.
This Southern style collard greens with smoked turkey legs is an excellent accompaniment for your Thanksgiving feast. This dish is guaranteed to please you and your family!
Other Recipes you will Enjoy:
Remember to subscribe to Domestic Dee Digest for the latest notifications delivered to your inbox!
If you make one of these recipes, hashtag #domesticdee on INSTAGRAM.
Be sure to follow me on social media, so you never miss a post!
Follow Domestic Dee on FACEBOOK | INSTAGRAM | PINTEREST | TWITTER for all of the latest content, recipes, and updates.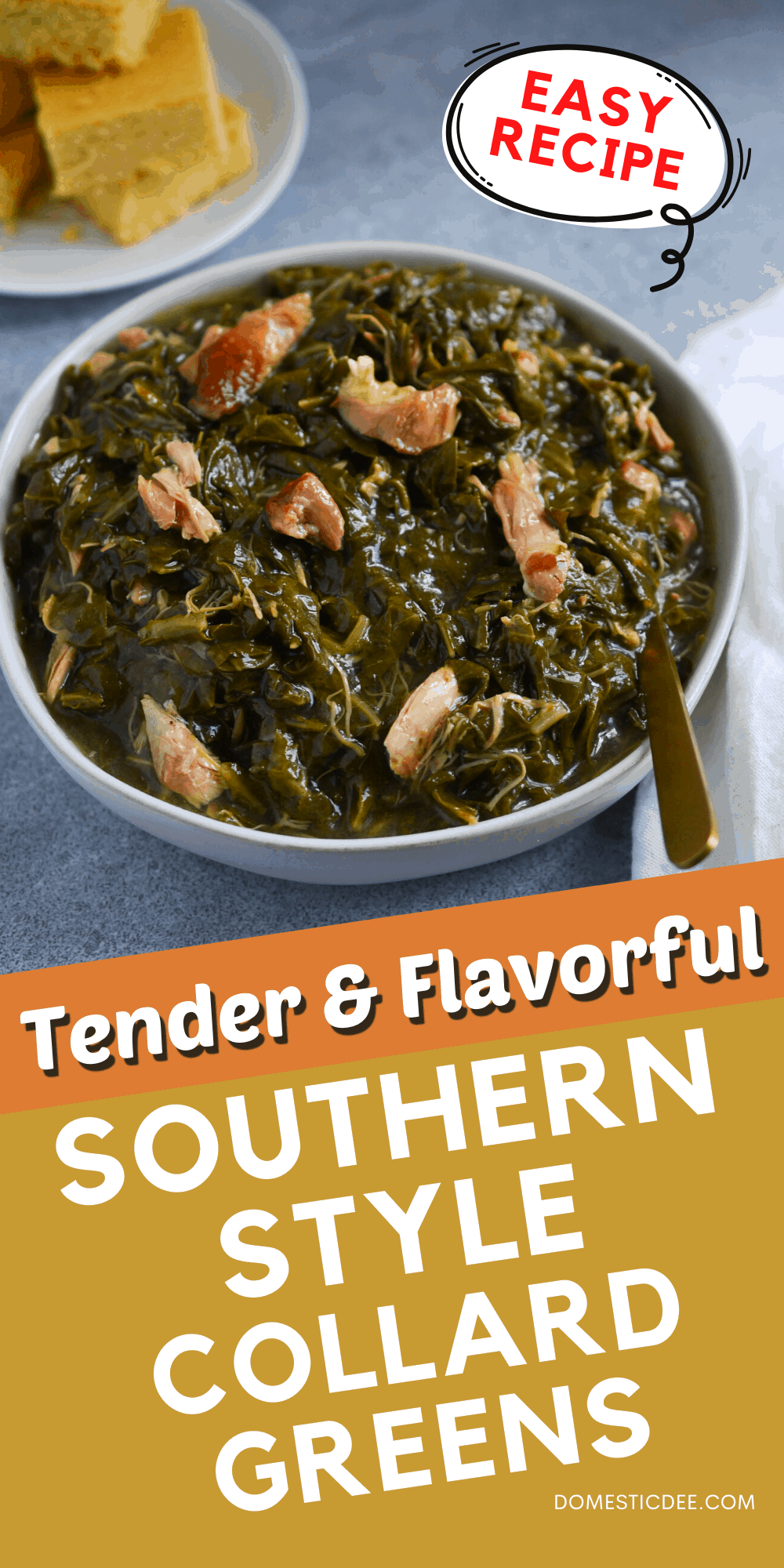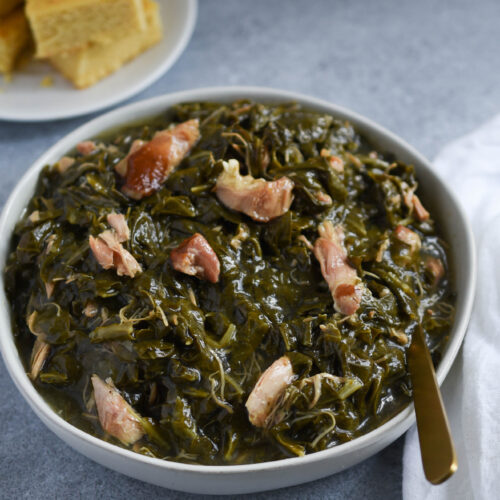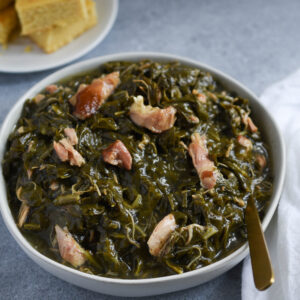 Southern Style Collard Greens
This perfectly seasoned collard greens recipe with smoked turkey is cooked in turkey broth with shredded turkey meat mixed in.
Ingredients  
8

cups

of water

2

large turkey wings

1.5 lbs

Collard greens

cleaned and cut in ½ inch pieces, (2.5 lbs), (4 bunches)

1

tablespoon

of seasoning salt

½

tablespoon

chicken bouillon

1

teaspoon

of pepper

1

teaspoon

sugar

1

tablespoon

of apple cider vinegar

1

tablespoon

of butter
Instructions 
In a large pot over medium-high heat, add water and smoked turkey wings. Let the turkey wing boil until it starts to fall off the bone, about 45 minutes to an hour.

Remove turkey wings and remove meat from the bone. Set aside.

Slow add collard greens to the pot. Once greens are in the pot, add seasoning salt, pepper, apple cider vinegar, sugar, chicken bouillon powder, and butter.

Stir everything together. Add the turkey meat back in and stir. Reduce heat to a simmer, cover, and let simmer.

Cook the collard greens for about an hour, or until it reaches your preferred tenderness.
Nutrition
Calories:
4
kcal
Carbohydrates:
1
g
Protein:
1
g
Fat:
1
g
Saturated Fat:
1
g
Polyunsaturated Fat:
1
g
Monounsaturated Fat:
1
g
Sodium:
1168
mg
Potassium:
7
mg
Fiber:
1
g
Sugar:
1
g
Vitamin A:
2
IU
Calcium:
2
mg
Iron:
1
mg