This quick and easy cranberry sauce recipe is homemade and only requires a few ingredients. This recipe has brown sugar and orange juice making it a delicious, sweet, and tangy cranberry sauce.

Cranberry Sauce – Sweet, Tangy, and Simple to Make
Do you love cranberry sauce around the holidays? Maybe you like it in your muffins, on chicken, on turkey, or as a dipping sauce.
No matter how you want to use cranberry sauce, this recipe is going to knock your socks off. This fresh and easy homemade cranberry sauce is delicious and so easy to make.
This cranberry sauce with brown sugar is a traditional must-have. If you are looking for a sweet and tangy recipe, this cranberry sauce with orange juice and brown sugar is a perfect choice.
All you need are some real whole fresh cranberries and a few other ingredients.

What Ingredients Go Into Homemade Cranberry Sauce?
Are you tired of buying cranberry sauce from the store? Do you finally want a delicious cranberry sauce recipe that you can make from home?
If so, you will only need a few ingredients to make this amazing cranberry sauce recipe.
The ingredients that you will need include the following:
● Water
● Orange juice
● Light Brown sugar
● Granulated White sugar
● Vanilla
● Cinnamon
● Fresh Cranberries
After you have gotten these ingredients, you can go home and start making this simple cranberry sauce.
How to Make Fresh Cranberry Sauce with Orange Juice in 4 Easy Steps
If you are looking forward to celebrating the holidays, then one of the things on your mind is probably what you will be cooking for a holiday meal. No holiday meal should be complete without cranberry sauce with orange juice.
To make this recipe for cranberry sauce all you need to do is the following:
● Mix the sugars, cinnamon, water, orange juice, and cranberries over medium heat.
● Cook them until the mixture is boiling
● Return them to a simmer
● Cook until the berries have burst and they are to your desired thickness
If you follow these directions to a tee, you will love the cranberry sauce every single time. Now, you have the most perfect and delicious cranberry sauce.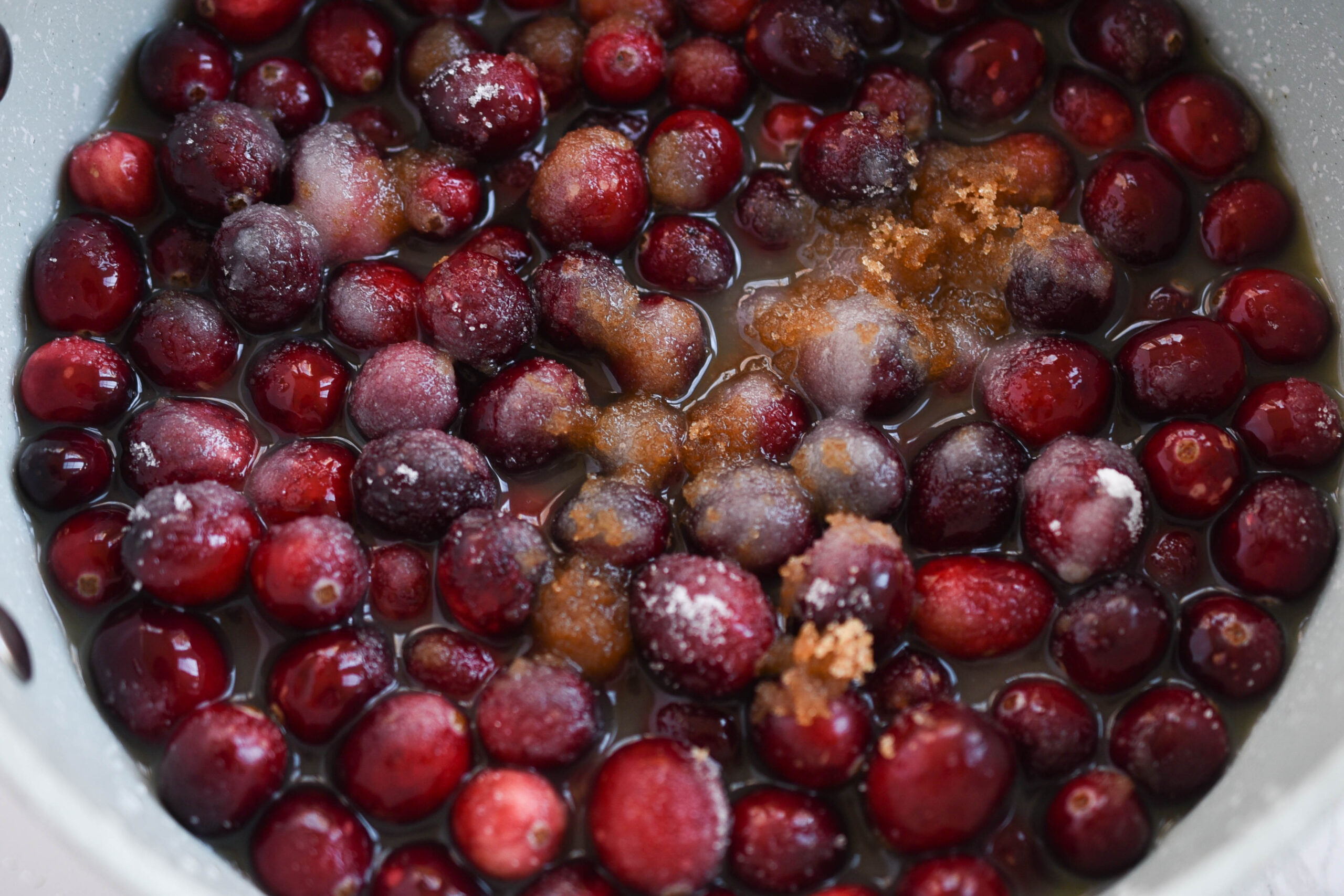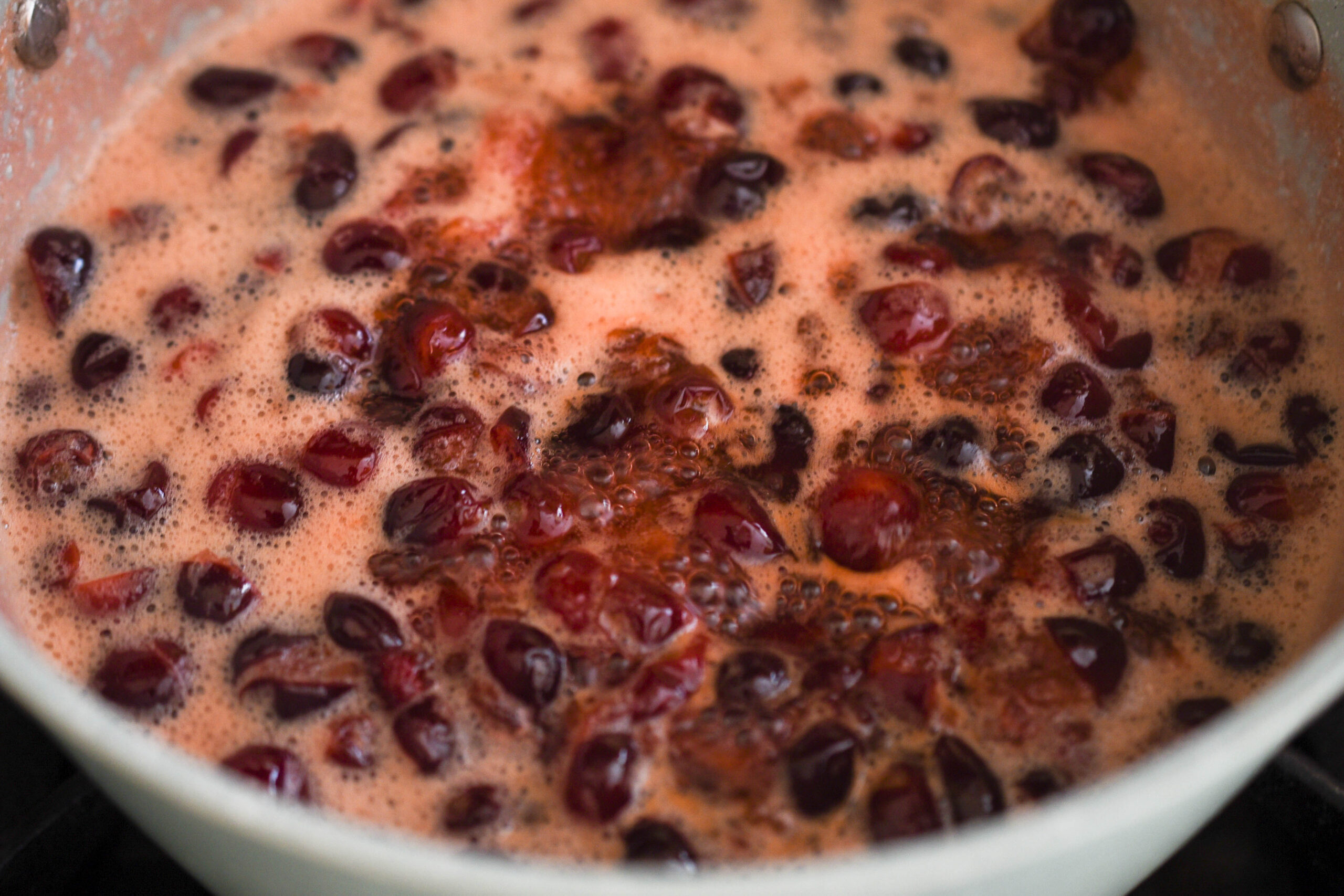 Can Cranberry Sauce Be Made in Advance?
Are you wanting to prepare for your holiday party or holiday meal ahead of time? If so, that isn't a problem at all.
You can do this without missing out on the cranberry sauce. With this cranberry sauce recipe, you can make it in advance.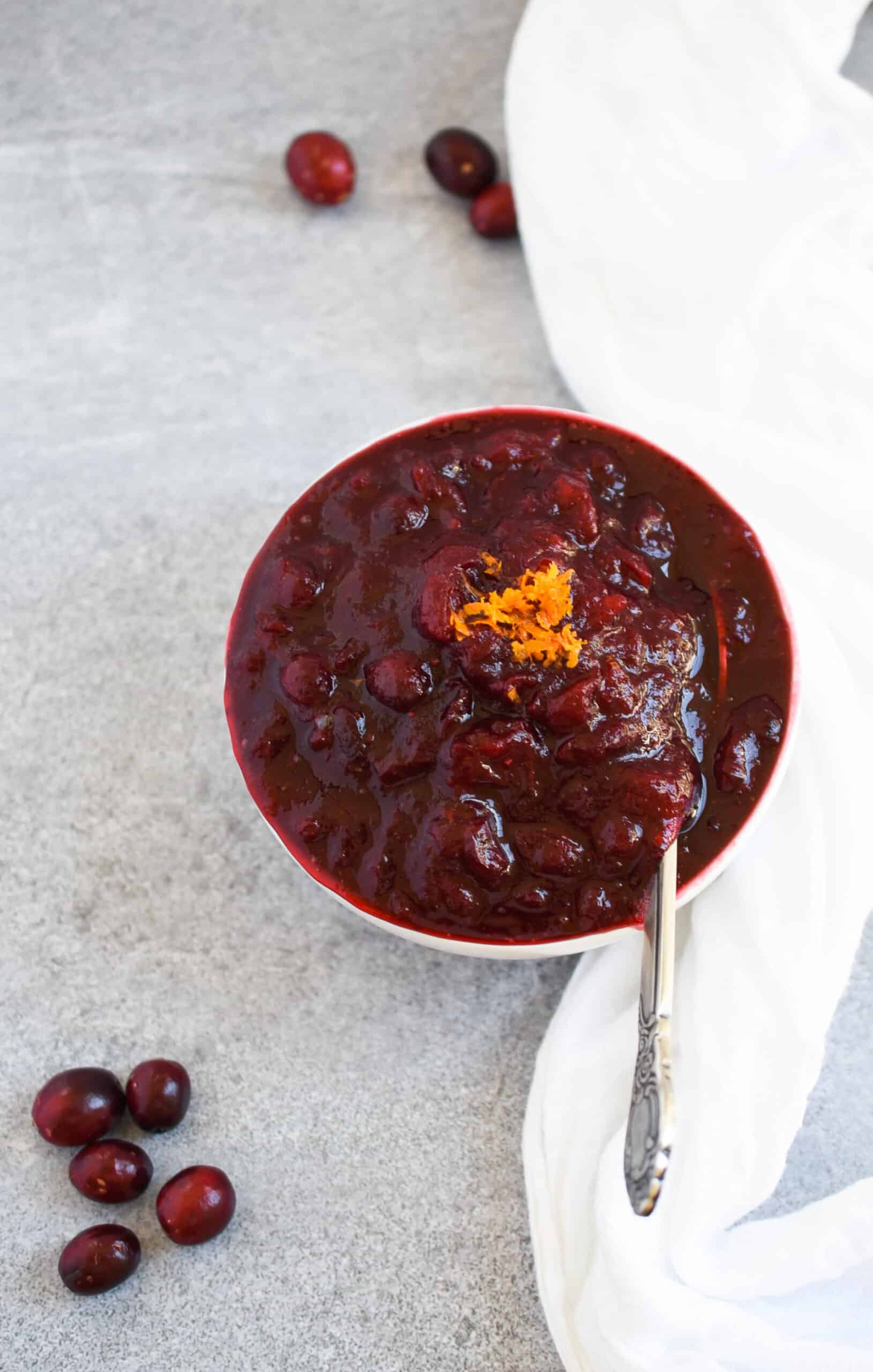 How to Serve Homemade Cranberry Sauce (Hot or Cold)?
How do you like your cranberry sauce? Do you love it hot or cold? No matter what you choose, with this cranberry sauce with orange juice reipe, it will be served perfectly every time.
With that being said, having this cold or room temperature ensures it is ready for everyone to eat.
How Long Will the Cranberry Sauce Keep?
If you do decide to make this cranberry sauce recipe ahead of time, it will keep for 7 days.
This means you can make it well before the party or meal, whenever you have the time. You can also make extra to have leftover cranberry sauce, as well.
Can I Freeze Cranberry Sauce?
Do you want to have a stash of cranberry sauce that you can add to your meals at any time? If so, then you can freeze this cranberry sauce recipe for 3 months.
Making cranberry sauce has never been easier. Now that you have this recipe, this is going to be a hit at all of the holiday parties, thanksgiving dinner, and in your own house, as well.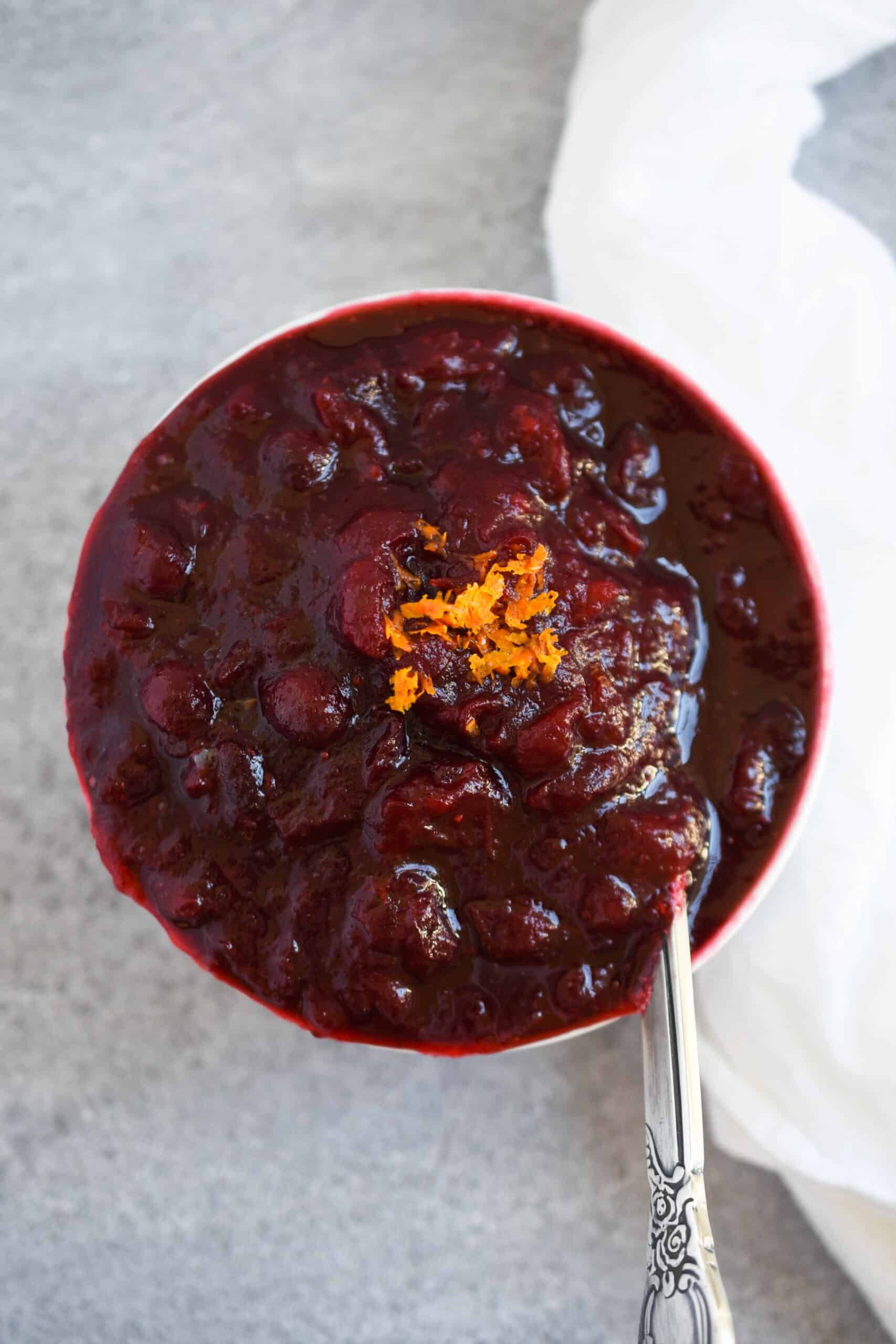 Here are some other recipes you'll want to try out:
Remember to subscribe to Domestic Dee Digest for the latest notifications delivered to your inbox!
If you make one of these recipes, hashtag #domesticdee on INSTAGRAM.
Be sure to follow me on social media, so you never miss a post!
Follow Domestic Dee on FACEBOOK | INSTAGRAM | PINTEREST | TWITTER for all of the latest content, recipes, and updates.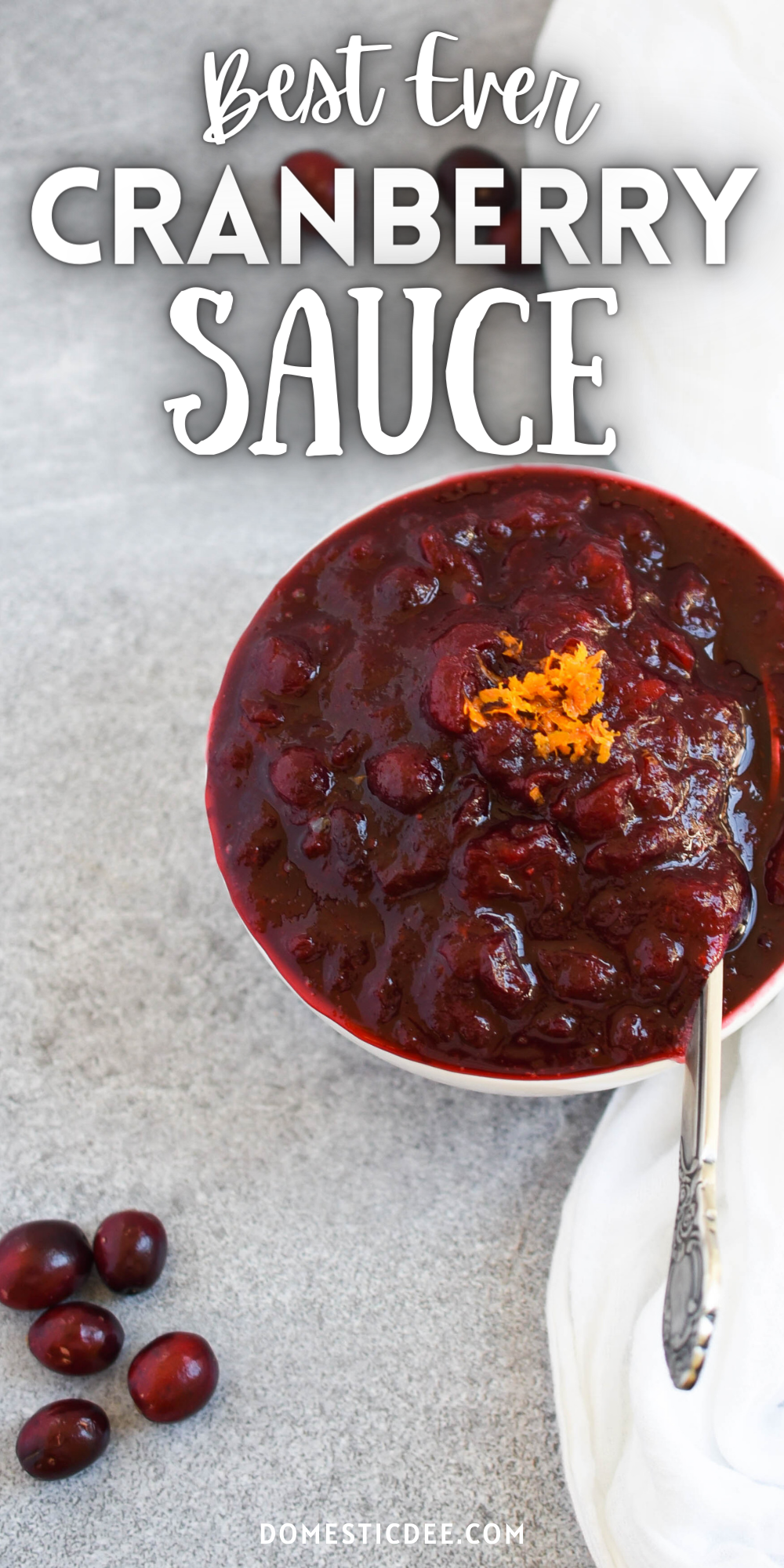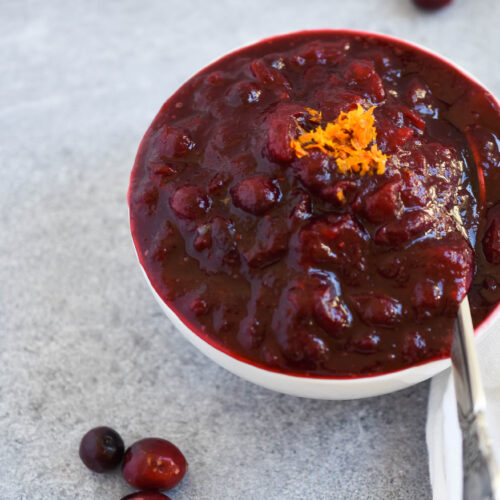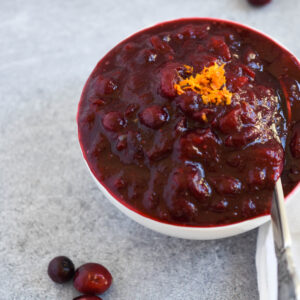 Cranberry Sauce
If you are looking for a sweet and tangy cranberry recipe, this cranberry sauce with orange juice and brown sugar is a perfect choice.
Ingredients  
1 12

oz.

bag of cranberries

washed

½

cup

of water

½

cup

of orange juice

¾

cup

of granulated white sugar

¼

light brown sugar

½

teaspoon

of vanilla

¼

teaspoon

of cinnamon

⅛

teaspoon

of salt

a pinch
Instructions 
Combine all the ingredients in a medium saucepan.

Bring to a boil, then reduce heat to a simmer for about 15 minutes or until cranberries begin to pop, stirring occasionally.

Turn the mixture off and let cool. It will thicken as it cools. Serve at room temperature.