These sweet, tangy, crispy, baked pineapple  chicken wings are so succulent they will have you licking your fingers…I promise!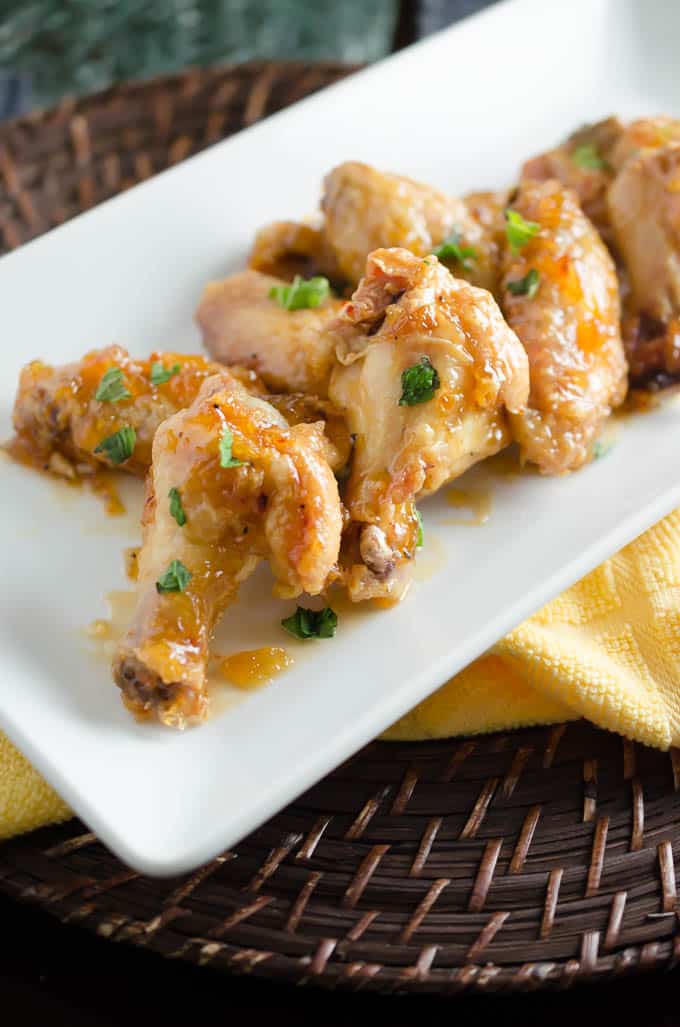 Hello!  I hope you are having a wonderful day.  I don't know about you, but maintaining my ideal weight is a constant rollercoaster.  You start off your diet excited and solemnly swearing to yourself you'll get it right this time.  Then the next thing you know, you've accepted one too many cheat days too soon.
 If this sounds anything like you, then I may have one solution for you.  I've performed a little bit of trial and error and have figured out how to bring one of America's favorite foods  back to the table during those intense training days!
What is it you ask???…drumroll please…FRIED CHICKEN!
Yes, you can actually add fried chicken into your diet and not feel like your cheating on your final exam in school.  LOL!
I don't know what it is about fried chicken but I could eat it every single day. The taste of the crispy skin and the juicy meat is just like heaven in my mouth.
When I figured out how to make crispy chicken wings in the oven, I knew I had to try it. Let me tell you, I am so glad I did.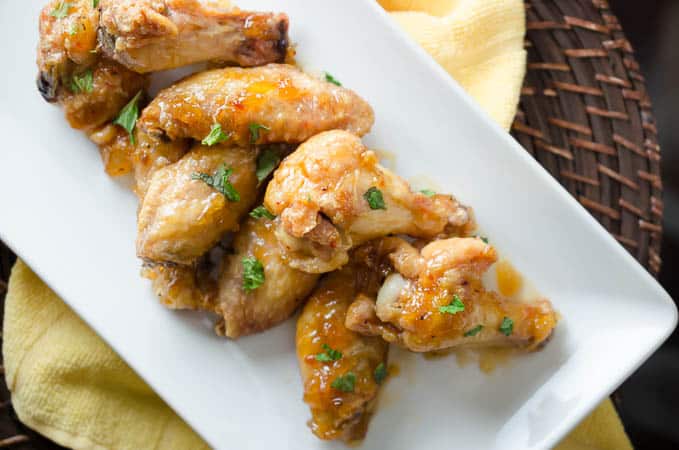 These baked chicken wings come out of the oven so crispy and juicy I could barely toss them in the sauce before "he" almost ate them all.  He is my husband.
What makes the recipe even better is it's simple to try. You would think getting crispy wings in the oven would be a task but not with this recipe.
Crispy Baked  Pineapple Chicken Wings in the oven, that sounds like a winner to me! What do you think?
DON'T MISS OUT!
Join Our Community for Exclusive Updates and a FREE Recipe Card Delivered Straight To Your Inbox
MORE FROM DOMESTIC DEE
Crispy Baked Pineapple Chicken Wing
Ingredients
Chicken
2 pounds of chicken wings, patted dry
1 tablespoon of baking powder
1 teaspoon of salt
Pineapple sauce
1 tablespoon olive oil
2 tablespoons onion, finely chopped
2 garlic cloves, minced
12 oz. pineapple preserves
½ tablespoon chilli paste
1 tablespoon brown sugar
½ teaspoon of apple cider vinegar
½ tablespoon soy sauce
¼ teaspoon salt
¼ teaspoon pepper
Instructions
Spray cooling rack with baking spray. Then place it on top of a foil-lined rimmed baking sheet.
Preheat oven to 400 degrees.
In a small bowl mix baking powder and salt.
Put patted dry chicken wings to a mixing bowl and sprinkle the baking powder/salt mixture on the chicken making sure all the pieces are evenly coated. Place them on the cooking rack and put them in the oven for about 45 to 50 minutes, or until then are golden brown.
In a medium sized pot on medium heat add the oil to the pot. Let it heat for about two minutes. Place the onions in the pot and saute for about a 2 minutes. Then add the garlic and saute for about 2 minutes.
Add the remaining ingredients and stir with a spatula.
Once the wings are done put them in a bowl and toss them in the sauce