Vegan Dirty Rice– A flavorful easy vegan dirty rice recipe that cooks up in no time. It's bursting with plenty of flavor you will forget it's meatless. Plant-based ground protein, seasonings, vegetables, and leftover rice makes this classic Southern comfort dish a recipe that you need to try!

This post contains affiliate links. See the disclaimer here.
It's that time of year again for the Black History Month Virtual Potluck! I can't believe it's already February! January really flew by for me.
Well, here we are again with an array of amazing and talented people who are bringing amazing food to the potluck!
So many flavorful dishes to share with you this year. It is truly a treat to have all these wonderful dishes in celebration of Black History Month. If you missed previous years, don't worry you can check them out here, here, and here.
But this year we decided to switch it up a bit and share vegan or vegetarian dishes.
This year I'm bringing Vegan Dirty Rice.
The theme was perfect because starting in January, I have been trying to eat vegan meals. I was intrigued to give it a try after watching the movie, The Game Changers. This movie was a real eye-opener. Now, I'm not saying it has been easy but I have been enjoying the journey.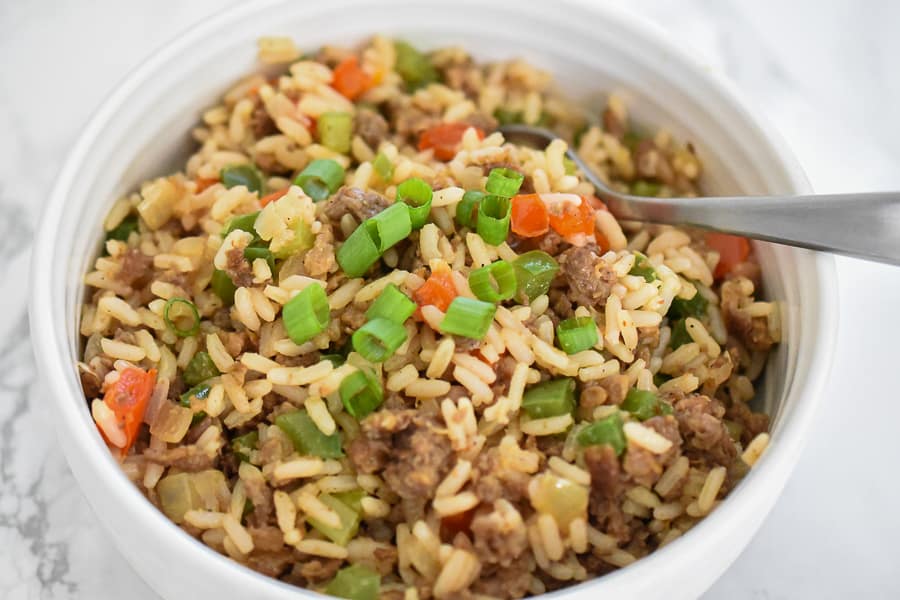 This Vegan Dirty Rice recipe is unbelievably flavorful easy dish and you can't even tell that it is meatless! It also comes together very quickly making this an easy recipe to add to the menu. Win-Win!
Now if you are wondering what is dirty rice, well dirty rice is a traditional Southern Louisiana Creole dish made from white rice which gets its name "dirty"  from the color of the rice from being cooked with meat, the holy trinity, and the various seasonings.
There are traditional dirty rice ingredients such as chicken gizzards or chicken livers but I love how you can customize dirty rice to cater to your family's dinner table preference. That is exactly what I did to make an all-time favorite delicious meal into a vegan dish recipe.
INGREDIENTS FOR VEGAN DIRTY RICE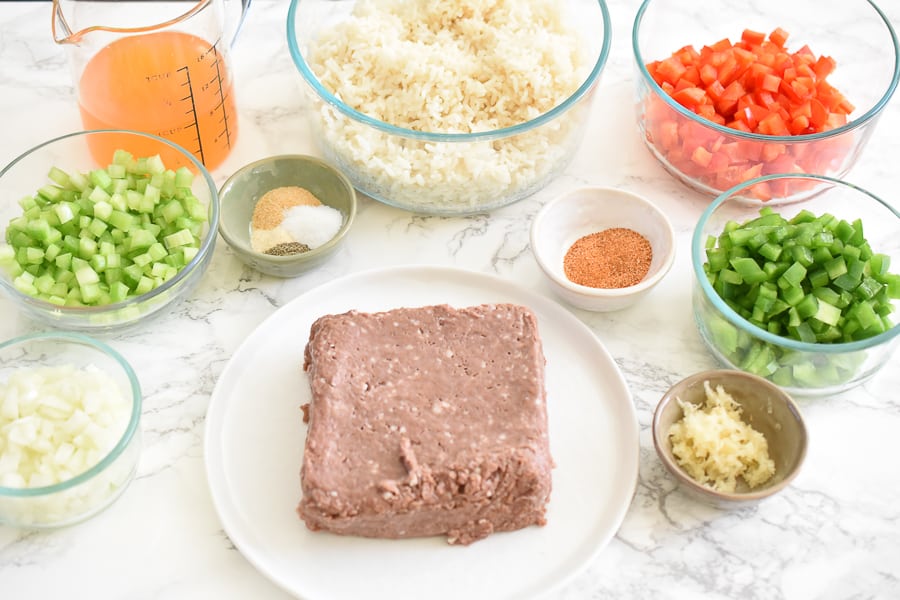 Medium Onion

Minced Garlic

Celery stalk

Green bell pepper 

Red Bell pepper

Garlic powder

Onion powder

Black Pepper

Salt

Vegetable stock or vegetable broth

White rice

Green onions
HOW TO MAKE DIRTY RICE
For this version of dirty rice, I used plant-based ground. I start by browning the plant-based ground on medium-high heatin my new favorite large skillet with a splash of olive oil. Once browned drain, I add in the vegetables to soften. Next, I had in all the seasonings and make sure they are fully incorporated then deglaze the pan.  Finally, I add the cooked rice and a bit more broth and allowed the flavors to come together and heat the rice. If you want to substitute white rice for brown rice or quinoa feel free to do so.
While dirty rice is a perfect complete meal on its own, my family sometimes serves it as a side dish.
Another good thing about dirty rice is that it's a one-pot meal, which means fewer dishes on a busy weeknight!
Make sure to check out the 28 other food bloggers who have created some amazing vegetarian and vegan recipes below!
So make sure to check out and try some of the other amazing recipes from our participating bloggers down below.
BLACK HISTORY MONTH VIRTUAL POTLUCK
29 recipes soulful vegan/vegetarian recipes from talented food bloggers for Black History Month from around the web:
AGirlCalledAdri | Pound Cake | vegetarian
What is one of your favorite vegan or vegetarian dishes? Let me know in the comments below.

Remember to subscribe to Domestic Dee Digest for the latest notifications delivered to your inbox!
If you make one of these recipes, hashtag #domesticdee on INSTAGRAM. Follow Domestic Dee on FACEBOOK | INSTAGRAM | PINTEREST | TWITTER for all of the latest content, recipes, and updates.
If you love this easy recipe please click the stars below to give it a five star rating and leave a comment! Please also help me share on Facebook and Pinterest!
A flavorful vegan dirty rice recipe that cooks up in no time. It's bursting with a delicious flavor you will forget it's meatless. Plant-based ground protein, seasonings, vegetables, and rice makes this classic Southern comfort dish a recipe that you need to try!
Ingredients  
16

oz.

of plant-based ground

1

tablespoon

olive oil

1

small onion

finely diced

4

cloves

garlic

minced

2

celery stalk

chopped

1

medium green bell pepper

1

medium red pepper

1-2

teaspoon

creole seasoning depending on if you want it mild or hot.

1

teaspoon

garlic powder

1

teaspoon

onion powder

½

teaspoon

pepper

1 1/4

teaspoon

salt

1

cup

vegetable broth

divided

4

cups

white rice

cooked

Green onion

chopped for garnish
Instructions 
In a large saute pan, heat oil over medium-high heat and add plant-based ground meat. Saute until browned, about 10 minutes.

Add vegetables and garlic. Saute until browned, about 5 minutes.

Add seasonings and stir until well combined. Cook for about 5 minutes.

Deglaze pan with ½ cup of vegetable broth and cook down, about 5 minutes.

Add rice and ½ cup broth. Cook until broth is absorbed, about 10 minutes.

Serve and garnish with green onions.