Most Amazing Crispy, Tender, and Juicy Air Fryer Cornish Hen Recipe
If you love cornish hen, you have got to try this new crispy, tender, and juicy air fryer recipe. It completely changes the way cornish hen tastes.
If you loved cornish hen before, you will want to add this air fryer cornish hen recipe to your great weeknight meal recipes. If you never really liked cornish hen before, this recipe will definitely change your mind.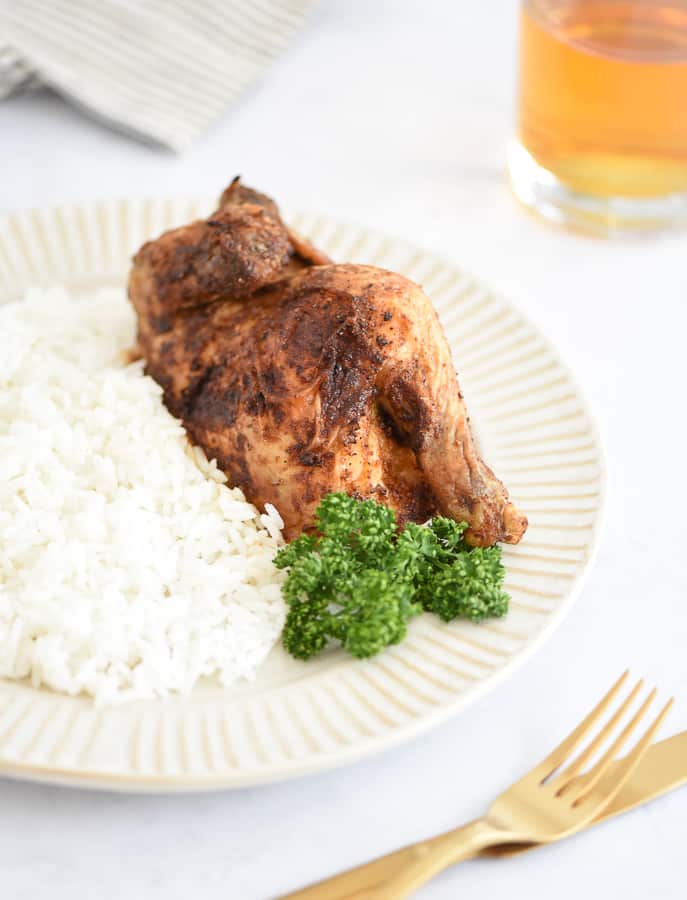 This post contains affiliate links. See the disclaimer here.
What is a Cornish Hen?
Cornish hen includes various types of broiler chickens approved by the USDA. The cornish hen is a mix between white Plymouth rock and cornish chicken breeds.
These hens are usually small and served ready-to-cook. They can be cooked in different ways. However, putting these cornish hens in the air fryer makes them taste so much better.
Air Fryer Cornish Hen Ingredients
If you have been looking for a way to get tastier, juicier cornish hen, this air fryer cornish hen recipe is just what you need. Whether you are having it for a great weeknight meal or a holiday meal, everyone is going to love it.
The ingredients that you need for this air fryer cornish hen recipe are the following:
Extra Virgin Olive Oil

Seasonings

Cornish hen
Once you have all of these ingredients, you will be ready to make this delicious, falls-off-the-bone, cornish hen recipe. It would be a great option for Christmas, Thanksgiving, or Easter dinner.
This cornish hen would also be great if you were just having family members or friends over for a meal, too.
How to Make Cornish Hens in the Air Fryer
If the sound of this ar fryer cornish hen recipe is already making you so hungry, it is time to learn how to make it. Making this tender, juicy cornish hen air fryer recipe is very simple. All you need to do is the following:
Preheat your air fryer

Rub the extra virgin olive oil on your hen

Add the seasonings

Place your hen in the air fryer

Rotate your hen half-way through the air frying process
Once you have done this and let the cornish hen finish air frying, it will be ready to serve. Everyone will get to enjoy an amazing meal and each other's company.
How Long to Cook Air Fryer Cornish Hens
Nobody has all day to sit around cooking. If you want a quick, great weeknight meal or holiday meal, this air fryer cornish hen recipe only takes about 40 minutes.
From the time you season your cornish hens to the time they are on the table and ready to eat, you can socialize and spend time with one another.
How Many Cornish Game Hens to Serve Per Person
The number of cornish hens that you will be serving to each person can vary. It could depend on the age of the people that you are serving.
For instance, a child may only want a quarter or not even that. However, most adults will probably want half or at the most one cornish hen.
They are delicious after all. Most people will have half a cornish hen at one meal. You can use this to plan for how many cornish hens you will be making.
Air Fryer Cornish Hen Tips
Just making this recipe as mentioned above will turn out perfectly. However, there are some air fryer cornish hen tips to make this recipe turn out even better.
The tips that you may want to use include the following:
Preheat your air fryer before putting the cornish hen in

Don't open the air fryer too often while the cornish hen is frying

Use a digital thermometer

Don't overcrowd the air fryer basket
Following these tips will certainly help to ensure you have tender and juicy cornish hens when finished. With these tips, your friends and family will want to come over for dinner all the time.
What to Do with Cornish Hen Leftovers
If you happen to have leftovers when making this cornish hen recipe, you can put them in the fridge for up to 3 days. These leftovers can be reheated in your air fryer at 325 degrees for 8 minutes.
You can also put them in your freezer for up to 3 months. If doing this, you should make sure the cornish hens are in an airtight container.
TOOLS USED FOR THIS AIR FRYER RECIPE:
Looking for other air fryer recipes? Try these out:
This air fryer recipe would be a great weeknight meal or holiday meal. If you have never tried air fryer cornish hens before, you should really try this recipe. The cornish hens turn out perfectly juicy, tender, and delicious.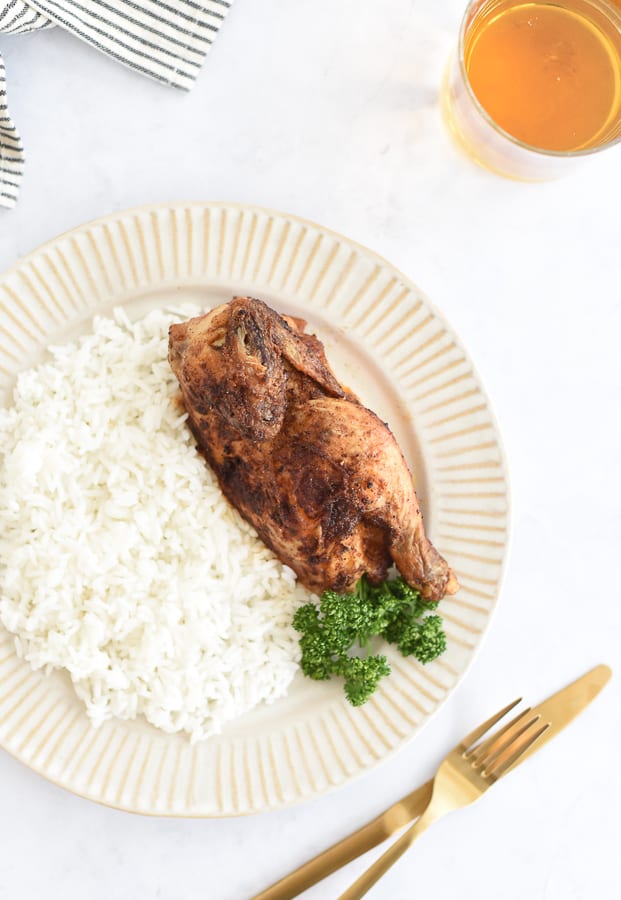 Remember to subscribe to Domestic Dee Digest for the latest notifications delivered to your inbox!
If you make one of these recipes, hashtag #domesticdee on INSTAGRAM.
Be sure to follow me on social media, so you never miss a post!
Follow Domestic Dee on FACEBOOK | INSTAGRAM | PINTEREST | TWITTER for all of the latest content, recipes, and updates.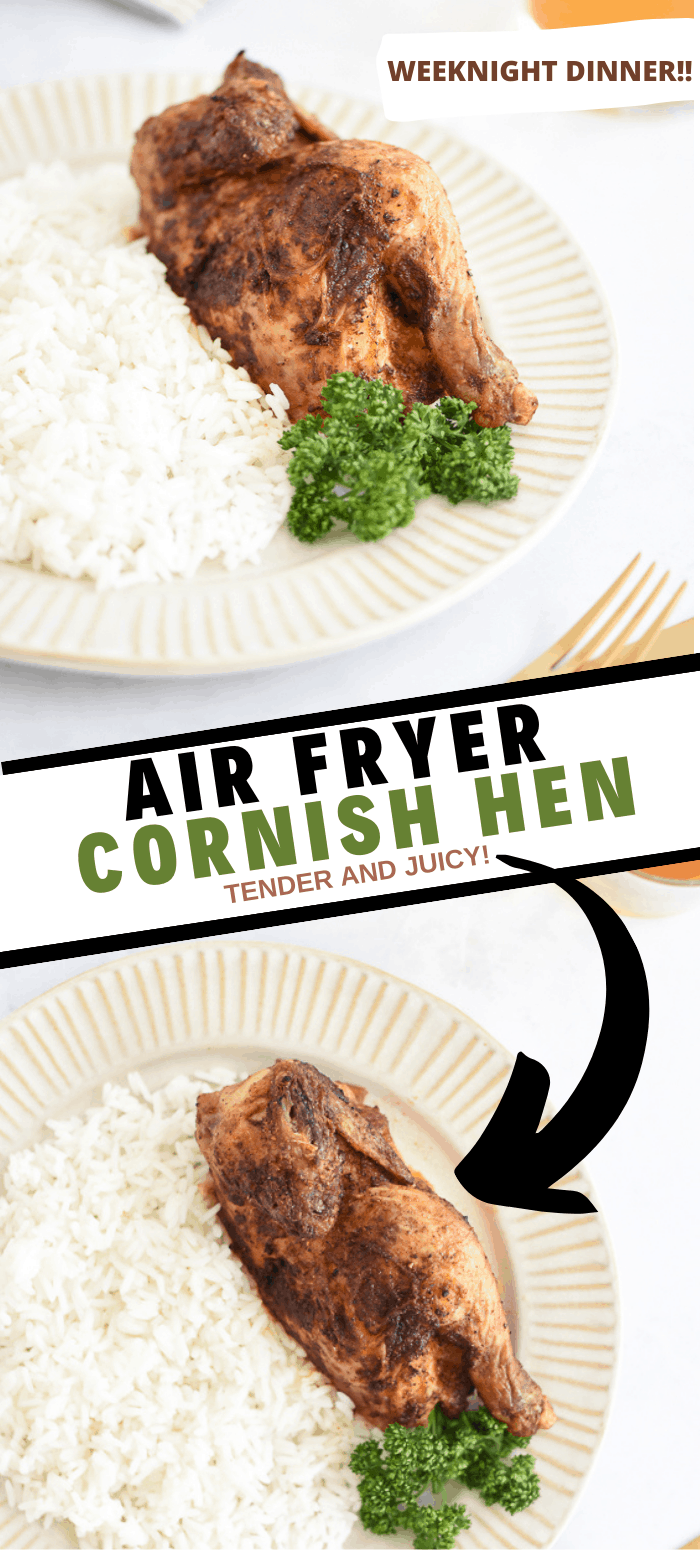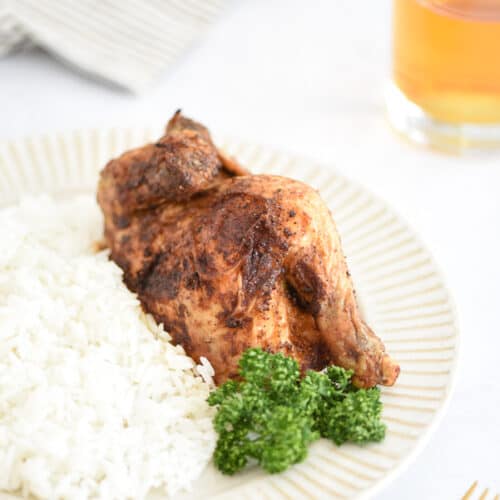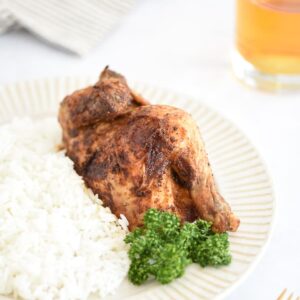 Air Fryer Cornish Hen
Ingredients  
1 tablespoon of extra virgin olive oil

1 cornish hen

1/2 teaspoon of garlic powder

1 teaspoon onion powder

1/2 teaspoon ground pepper

1 teaspoon Sazon total complete seasoning

1 teaspoon kosher salt

1/2 teaspoon smoked paprika
Instructions 
Preheat air fryer to 360 degrees.

Mix all seasonings together in a small bowl.

Rub Cornish hen with olive oil on both sides.

Season cornish hen with seasonings on both sides.

Place Cornish hen in your Air fryer breast side down cook for 20 minutes. Flip with breast side up and cook for 10 minutes or until golden brown. The internal temperature should be 165 degrees.

Carefully take it out the Cornish hen.

Let it rest for 10 minutes.
Nutrition
Serving:
2
g
Calories:
180
kcal
Carbohydrates:
2
g
Protein:
59
g
Fat:
55
g
Saturated Fat:
14
g
Cholesterol:
344
mg
Sodium:
1462
mg
Potassium:
840
mg
Fiber:
1
g
Sugar:
1
g
Vitamin A:
616
IU
Vitamin C:
2
mg
Calcium:
46
mg
Iron:
3
mg